450 comments Add a comment
My major gripe is when people without children park in the 'parent and child' parking spaces at the supermarket. How selfish is that? The elderly and the disabled think it's absolutely THEIR RIGHT to park in these spaces, but god forbid if I park in a disabled spot which quite rightly something I would not do. We all have to wait for a space.
People should try carrying a baby in a car seat following a cesarian section (major surgery!). Not only that but stretching over in the car and fitting the car seat properly, or getting the baby out is very difficult following child birth.
This is very difficult in a normal parking spot, it is much easier in the wider parking spots. These spots are also closer to the trolley collection points. Trust me, you do not want to leave a baby for a second alone in the car whilst you return your trolley.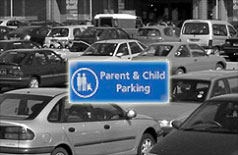 It's not just the people without children I find irritating. The thing that really annoys me the most are those people who sit and wait in their car (in a parent and child parking spot) with their brood of ten and think it is perfectly okay for the wife to nip out and get the shopping; meanwhile the husband and kids stay in the car and basically waste that space! It's ok we've got kids they're probably thinking! Well actually IT IS NOT, because you could just as easily park elsewhere and WAIT.
The parent and child parking spots are for the convenience of parents who are taking their children shopping with them! Abuse of Tesco's Parent and Child Parking Scheme - online petition
By: Crossmama
Leave a comment