313 comments Add a comment
I really do think that smokers have got to be the most filthy, inconsiderate and rudest bunch of people around. For example, whilst happily sat in the non-smoking area of my local pub last Friday night, a group of four twenty somethings sat on the table next to us and proceeded to light up and hid the cigarettes under the table. My partner and I glared across at them and questioned whether we were sitting in the non-smoking section of the pub which we knew we were. This of course made no difference and the youths continued to smoke.
sitting in the non-smoking section ...
So when I next went up to the bar to get a round a drinks in I checked with the manager and she confirmed that we were sitting in the non-smoking section. So I them told her about the people smoking next to us. She quite rightly dealt with the situation straight away and as you can imagine they weren't very happy about it. On another occasion I have seen a couple of young girls smoking in another non-smoking section of the pub which has leather sofas. They were flicking their ash behind the sofa and when they finished with their cigarettes were disposing of them in empty wine glasses that were on the table next to them.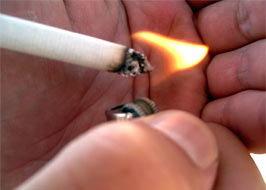 About two months ago we had a young couple with a baby moved in to the house next door to us. Now all I seem to see on the road at the back of the house and the path on the front of the house is old cigarette butts. This is absolutely disgusting. Why do they do that? Can't they dispose of them somewhere properly instead of being so lazy.
Another incident I came across the other day was when I was on my way home from work. I was driving down the dual carriage way and noticed the car in front of me threw something out of the window, it looked like a clear piece of plastic wrapping. Then they threw a piece of paper out of the window. It was a this point that I expected to see them light a cigarette and of course they did. Why are these people just so dirty and don't seem to care about littering the place?
I think there should be fines put in place for smokers who smoke in non smoking areas and for those who do not properly dispose of their cigarette butts, likewise with people disposing of chewing gum. But that's a whole different story.
Leave a comment