123 comments Add a comment
This gripe is about kids on quad bikes. After years of saving and thousands of pounds of borrowing I have bought my first house. I work hard, pay my taxes and abide by the laws of the land.
This is why I get so annoyed when there are so many criminals getting away with absolutely anything. Near where I live, there is a council estate, now don't get me wrong because I am not having a go at all people who live in council houses. Unfortunately however, there are a select few that feel the need to ride their stupid and probably stolen, quad bikes on public land. I wouldn't mind if it was land that was for set aside for such pursuits, but it is not in this case.
They ride these quad bikes on footpaths, over private drives, people's lawns and pretty much wherever they like. The police have been called on so many occasions by a number of people, but nothing is ever actually done to stop this crazy behaviour! These kids aren't insured they don't care if they damage other people's property! The way things are going I suspect it won't be long until someone is seriously hurt or even worse, killed by one of these things.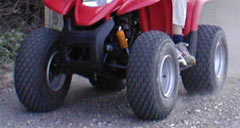 England is growing to be a country with a bit of a thug culture because we are too soft on criminals. They don't care that they are breaking the law. They don't fear jail, because it's nice and cosy for them when they get in, and then of course when they get out it's nice and cosy with their benefits that we pay for. I think we should have more of a say in what the tax is spent on, I certainly wouldn't want it spent on criminals.
I personally think we should bring back National service to get these kids off the street and get them doing something useful.
Leave a comment