12 comments Add a comment
I understand that Britain is getting more and more crowded and there are times when it's difficult just to walk down the street. My gripe though is about people who use buses, trains or escalators and don't seem to realise that there may be somebody behind them.
Too often, the bus stops and there is a queue to get off and people wait patiently for their turn. However, the other day, a man got off and just stood there and started rummaging for something in his jacket. As the bus was right against the kerb and other people were trying to get on, we were stuck. No way to get past him. After a couple of minutes and "Excuse me, please", eventually he moved on.
A couple of people then got off and one lady walked to the right, changed her mind and walked to the left, right in front of somebody just stepping down from the bus. There was a bit of a collision, obviously and shopping bags everywhere. She blamed the person getting off the bus but actually it wasn't their fault - she shouldn't have doubled back on herself without looking.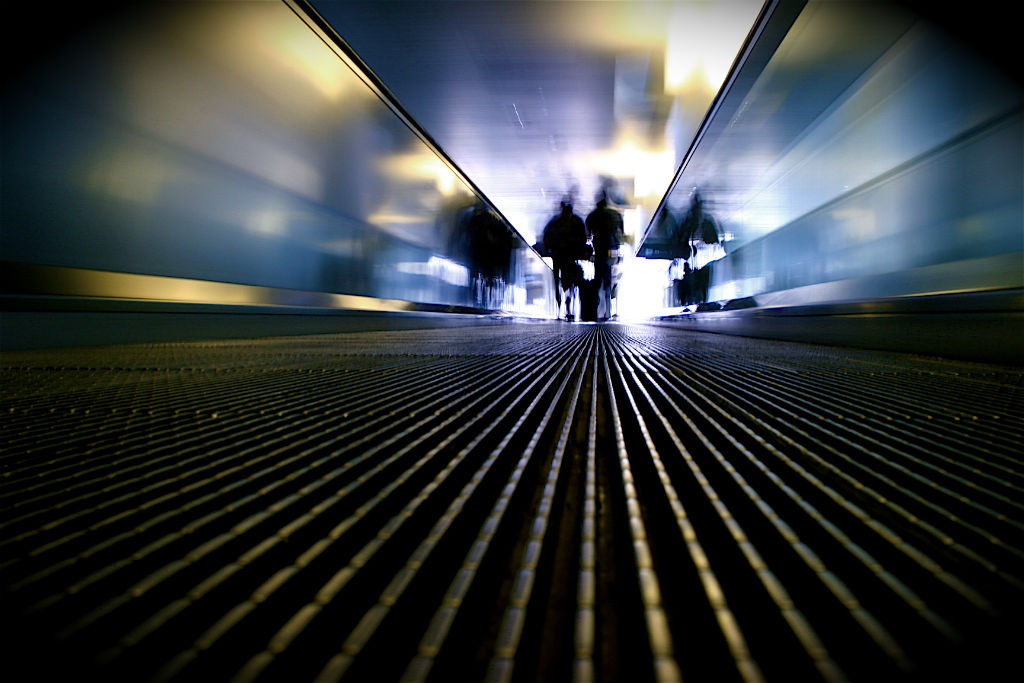 This also happens in airports on the travelators. People are having a bit of a chat or looking out the window at the planes landing and are suddenly surprised when the moving walkway ends and they need to get off. Fast. Then, it's every man for himself as they try to grab all their cases and bags and end up effectively blocking the walkway. This is really dangerous for other passengers who are behind them as there is nowhere to go but the walkway keeps moving. I've seen a couple of Asian students actually leap over the side as there was a pileup at the end of the walkway. Welcome to Britain! How are your hurdling skills?
escalators - people walk off at the bottom and then just stop!
The worst thing is escalators - people walk off at the bottom and then just stop!!! They seem to totally forget that other people are following them. I've had this a few times in department stores. I've literally had to push people out of my way rather than crash into them from behind.
Now, I'm not suggesting that we all get fitted with a pair of wing mirrors on our heads but a bit of spatial awareness wouldn't go amiss. Yes - there are people behind you. Move along!
By: Not so happy shopper
Leave a comment