127 comments Add a comment
I read an article in the news today about an elderly woman, who was attacked by youths in Salisbury, Wiltshire as she left a chemist shop. The 81 year old was a victim of "happy slapping", a craze that has recently swept our country.
I find this sort of thing disgusting and it makes me very angry. This happy slapping thing is stupid enough, but when the victim is one of our more vulnerable members of society I just see red.
Happy Slapping - A phenomenon said to have originated in south London where gangs of youths known as yoots or rude boys will pick a random passer-by. One of the gang will then attack this person, whilst another captures the act with their mobile phone.
The media and the parents are as much to blame as are the kids themselves. Parents nowadays it would seem, don't know how to teach their kids to respect their elders. Kids don't respect their parents, their teachers, the law, and other peoples' property; in fact they don't respect anything anymore, not even each other. What kind of a society are we turning into? What is it going to be like in ten or twenty years time when these louts grow up?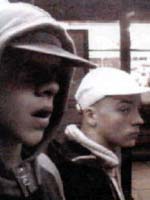 Are they going to magically learn that there are boundaries to behaviour, and that to go around hitting people is wrong; or, is the more likely scenario one where it's okay to beat people senseless whether or not it is on camera? I'm going to be old and possibly vulnerable one day also. I just hope that by then this stupid and violent happy slapping craze isn't still a part of every day life.
I've pointed the finger at the parents up until now, but I think the media should share some of the blame also. Do you remember a few years ago the Tango adverts that were on television? These were responsible for a spate of ear slapping incidents in which some children were sent deaf. They were only copying the antics of the big fat orange man in the advert as he "tango-ed" unsuspecting members of the public. These days, we have shows such as Trigger Happy TV and Jackass to teach our children new forms of violence and stupidity.
Leave a comment