68 comments Add a comment
Why do people believe that it is acceptable to inflict their noisy, ill-mannered, bratish children on the rest of us? It seems that all public occasions must be spoilt by a screaming temper tantrum; every piece of food in the supermarket must be investigated by dirty fingers and duly prodded, poked, coughed on and then randomly discarded; everybody else's property should be beaten like a drum or kicked like a football. Heaven forbid if anyone complains; modern parents see absolutely no faults in their darling little angels. Let them explore the world they say, express their inner feelings, tolerate their precocious, ill-timed, feckless interruptions to adult conversations and encourage their sense of self importance as this will develop an independent thinking adult. Never does it seem to occur to many parents that other people don't want to listen to their offspring howling in the Cinema and would rather avoid the back of their seat being kicked by bored little Johnny for nine hours during a long haul flight.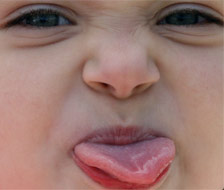 Such attitudes are wrong; they feed and amplify the egocentric traits of children's personalities and produce a misplaced sense of entitlement. This is reflected in the growing belief amongst many children that the whole world solely exists to deliver never ending super sized portions of glee to the underdeveloped pleasure centres of their brains. This is harmful to their long term social development and makes their eventual adjustment to adult life all the more traumatic; the adolescent realisation by an individual that he or she is not such a special, smart, talented little cookie can very easily develop into adult embitterment.
Whilst I don't prescribe to the Victorian "seen and not heard" mantra, I certainly see nothing wrong with the expectation that children should take an appropriate place in the wider societal hierarchy; earning privileges through good behaviour, recognising the rights and needs of others and showing respect for adults. It is time once again that parents realised that their beloved children must be brought up to understand that although they are an important precious commodity, they too have a responsibility to learn and exhibit the habits and behaviours that contribute to a pleasant, well functioning British society.
By: Grumpy Old Man
Leave a comment