50 comments Add a comment
I went to the pub today because I wanted to celebrate the Royal Wedding and saw really young children outside in the garden which I don't mind as I was going inside. But when I entered inside I saw this little screaming brat misbehaving. She was running around, yapping constantly and would not sit down. Those with her did not control her enough.
My personal feeling is that pubs are really not for young children in the evening, but if they are there, then they should be kept under control and not left to run amok to the detriment of other patrons.
This little girl kept crawling around and was hiding under the furniture. Why didn't she play outside with others? At least if she was outside she would not annoy others who came to enjoy a pint and a meal inside with their friends. I wanted to tell the adults who were with her to take her outside because she was really annoying me (and probably others too). The man who was with her gave her a choice of either going home or eating ice cream. He should have taken her home to be honest because while she was waiting for her ice cream she still kept on causing havoc in the pub with her antics.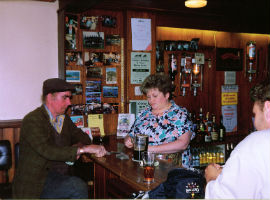 Thankfully after eating her ice cream she finally left. The adults with her should have been more considerate towards others inside the pub by taking her outside if she misbehaved. That way they could calm her down when she threw her little tantrum and not disturb those who wanted a nice evening. I don't mind if pubs have things for children to do and are family friendly, but there should be a certain time that they are allowed in the pub, preferably, 6pm onwards no children at all, or at least no under 10 year-olds!
It is not appropriate to take such young children to a pub especially near their bedtime when they are clearly tired and want to go home! Kids get cranky when they're tired, so it's selfish of the adults to keep them there just so they can have a few drinks. In fact Id rather see a dog in the pub than a little screaming 'baby lager lout'. The pub garden is might have a playground for young children BUT not the inside!
By: Angry Autistic Female
Leave a comment