213 comments Add a comment
After hearing about a mother being followed and reported to Social Services after an off-duty policeman heard her chastise her misbehaving children in a supermarket, I felt compelled to type this rant about the way children are behaving in this day and age.
I'm only 30 (nearly) but I remember when I was a child, if I was naughty my parents wouldn't hesitate to give me a smack on the legs or bottom. It was a short, sharp shock which didn't really hurt, but was sufficient to shock me out of doing whatever naughty thing I was in the middle of. I grew up knowing right from wrong, and with, I believe, a sense of decency, morals and respect for others.
Sadly, kids now don't seem to have that same respect or parental guidance. To be fair, I don't think the parents can be entirely blamed; this is yet another legacy that our useless government is bestowing on us. By removing all parental and authority's rights to discipline children, they're growing up completely out of control. Why, I've just read an article from the Mail about a gang of 6 year olds who stopped paramedics from treating a toddler who'd burnt her back on a radiator. Apparently emergency services had to come to the scene armed with tazers. Protection against 6 year old thugs. Would this have happened 30, 40 years ago? I don't think so.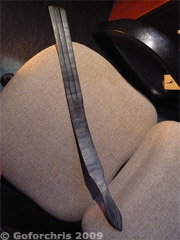 I am worried my daughter will grow up to be a yob...
I'm all in favour of bringing back corporal punishment in schools. A radical idea perhaps, but if regulated and monitored I think it would go a long way to solving the problem with kids today. A cane across the palm or backside for serious misdemeanours in school would stop a lot of bad behaviour which children are starting younger and not growing out of. But no, teachers are given no leeway whatsoever to deal with bad behaviour in their classes. I've heard that it's now even forbidden to send a child out of the classroom when naughty, because some health and safety policy says they may hurt themselves. I say, better themselves than some other poor child who probably hasn't done anything wrong, or their long suffering teacher.
I'm now a mother myself and I am worried my daughter will grow up to be a yob, or worse, because of peer pressure and lack of discipline in her school. I'll do my best at home to instil values and good behaviour in her, but children are influenced by so much more than their parents and I fear my efforts may not be enough. What this country needs is a government who isn't afraid of everything, and to allow schools to be run by teachers again, instead of the pupils. And allow parents to discipline their children instead of letting them run wild for fear of Social Services. A deserved smack on the bottom does not equal child abuse. It's far more abusive to the child in the long run to let them get away with everything.
By: Mallory
Leave a comment