60 comments Add a comment
I travelled on the 260 bus today from Willesden Green station and sat downstairs on the back row of seats as it was packed. Next to me was a girl of around ten. She had her arm partially on the arm rest so I put my elbow on the bit she wasn't using. Believe me, there was enough room for the both of us; I am far from huge. Suddenly the child starts shoving my arm off. First I thought it was by mistake but she continued and when I ignored her, she started pushing at my bag! Eventually I had enough and looked her in the eye intently and said "excuse ME" making it clear that she needed to stop this rude behaviour.
Her mother on the other side of her, far from not huge, had her mobile phone permanently attached to her ear but then started voicing off at me, saying "what you say? Excuse me? You see a child sit there - why you sit there?" and other ungrammatical nonsense. She was obviously trying to provoke a response so I took the approach I find always works best and continued to read my book whilst smiling and laughing to myself and not engaging with her.
The annoying child, then really went over the top...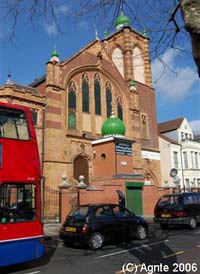 The annoying child, then really went over the top pushing and shoving me, then looking at her mother (still on the phone and yet still ranting at me - a fine example of multi-tasking!). In the end I just looked at this child with my "death stare". Still didn't stop her though.
In the end they got off, the mother still muttering away. I wouldn't have wanted any kind of confrontation with her - she was about four stone heavier than me for a start! But I did give myself the satisfaction of looking out the window and giving them both a big grin. That seemed to infuriate them more than anything!
End of the day though, I felt sad for that little girl. I was NEVER allowed to speak to adults like that or be so rude when I was a girl of that age, and she is hardly being given a good example by her mother. I have grown up to be successful with plenty of friends and a good job. What hope is there for her with that attitude and a parent like that?
By: 7th angel
Leave a comment