51 comments Add a comment
The Government tells us we should leave our cars at home and use public transport more. My car has been in the garage for the last 8 days, awaiting to be seen by a very busy mechanic who has not had time to look at it yet over Easter. Consequently I am having to use public transport to get to work.
Instead of my usual 20 minute commute to work, leaving at 8.00 to get there for 8.30, I now have to leave my house at 7.20 to catch the 7.30 bus. This bus then takes me on a 10 minute journey in the opposite direction so that I can catch another one that goes to my destination. Well I get off this first bus and walk another 200 yards in the wrong direction, wait at a busy crossing for the lights to change, cross the street and walk another 200 yards to the bus stop. I then have to wait 20 minutes for the second bus which is at least going in the right direction. This bus takes another 20 minutes to get to my destination, stopping every few minutes along the way.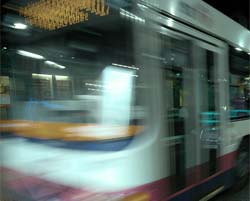 On the way home I have to wait 30 minutes for the connection which would increase my travelling time to an hour, so instead I have been taking my walking boots to work and walking that final lap home. It takes about 45 minutes walking at a steady pace, but it is a lot better than standing around wondering when the bus will turn up.
In a couple of days I will be staying at a friends house and so will have to catch another bus on a different route. I jumped on one bus today and checked with the driver if it was the right one, and he replied "huh?". I repeated my question. He shrugged. "dunno". I had to ask the PASSENGERS if the bus was going in my direction!!
Thank you God that it is not raining and please let my car be fixed soon because the bus service here in the UK is terrible!
By: Emmy
Leave a comment