105 comments Add a comment
I don't get many calls at work as we normally correspond by email. In the rare occasion when my phone does ring I have recently hesitated and dreaded picking it up especially in the afternoon around 3 o'clock. Why? Well because I am sick and tired of getting cold calls from a T-Mobile call centre in India.
They wanted to offer me a free mobile
No joke, everyone in my department has received one of these calls so far. There was a time when everyone had received their call but me and I started to feel left out. Now I get at least two calls every day.
The first time I got a call, this little Indian voice asked me if I had a mobile. I told them I did. They said they wanted to offer me a free mobile connected to T-mobile. What's the catch I wondered as you don't get anything for free nowadays. So I decided to tell them I wasn't interested and hung up.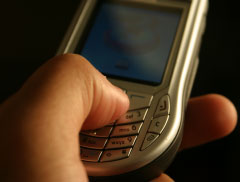 The next couple of times they rang I told them I wasn't interested straight away but they still continued to talk obviously to try and change my mind. Some times when they ring and you pick up the phone, the line is actually silent. If you wait long enough you will hear an automated message asking you to hold the line as someone is trying to call you. Then, surprise surprise, you get a distant Indian voice and you know it's them again.
The last time I got this automated message I decided to transfer the call to our fax machine. I must say I did get a sense of satisfaction out of that one!
I am hoping that the calls have actually stopped now because the last call I had was a couple of days ago. This time I actually interrupted them just as they started their spiel and told them to remove my number from their records as this was the fifth phone call I had received and I was sick and tired of receiving calls from them everyday. And guess what happened? They hung up on me. How rude? Well, all I can say is that after this experience I won't even consider a T-Mobile phone as I've not got a very good opinion of them right now.
Leave a comment