75 comments Add a comment
I'm sure we've all been there before. You've just got in from work and sat down with the family to have tea, or maybe your relaxing by watching some TV or a film. Suddenly, the phone goes and you feel compelled to answer it, after all it could be something important, you just don't know. But no, it's another bloody cold caller with a survey or trying to sell you something! Grrrrr...
The last thing I want is to be pestered by cold callers
When my working day is done the last thing I want is to be pestered by cold callers trying to wheedle some business out of me. I really feel that it is an invasion of my privacy and they're taking up my valuable personal time, time I'd rather spend with family relaxing than answering inane questions. When my dinner is interupted by some telemarketing company trying to sell me something, I can only be polite to them for so long before I've had enough and hang up.
Here's what happened the other night around teatime. Yet another kitchen sales person who wanted to come out and do a survey called us. My husband took the call and I distinctly heard him say "No thanks, we're not interested", very politely at least five times before hanging up. Lo and behold, within the hour the same company rang us back again. This time it was the supervisor who went into her long spiel and asked us why we didn't want a survey done, "Surely there's something that you would like to change in your kitchen?" she said.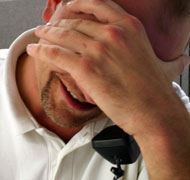 That's the thing about cold callers, they're quite thick skinned and this one was no exception. Clearly she wasn't about to take 'No' for an answer, so after being terribly polite for the first eight minutes, I told her that she shouldn't presume that my kitchen wasn't perfect the way it was and could she not call me again. She then had the audacity to say "But if you want to change something in the future, you will give is a call wont you?" Well I had to bite my tongue at that point because a few choice replies sprang to mind. "Not on your life" I said and then hung up.
Thinking about the sheer number of cold calls we receive I'm actually quite perplexed. We aren't in the phone book and I've signed up to the telephone preference service (TPS) so I'm quite puzzled as to why we still get so many calls. I do shop on the Internet and occasionally sign up for offers etc., but I am very careful and always check the appropriate boxes so that my details aren't sold or forwarded on to telemarketing companies. Something is going on though and a system is broken somewhere, because I still get pestered by loads of cold callers. Perhaps they've started dialing randomly now or something?
Another thing that really bothers me is when they don't get my name right. If they're trying to score some business, the least they could do is figure out how to pronounce the name of the person they're calling. A fair amount of them are from foreign call centres so that explains it I guess. I've had so many different pronunciations it's unbelievable.
By: Joyce
Leave a comment