276 comments Add a comment
Calling customer services or a help desk these days seems to be getting increasingly frustrating. It used to be the case that it was just a real pain because you were transferred from pillar to post and left hanging on for some time. These days however we have the added difficulty in that the person on the other end of the line may be difficult to understand because of their strong accent.
So many companies have outsourced their call centres to India now and we were of course given assurance that the quality of service would be the same. We were told that the young professionals in India were well trained and fluent in English and that the service they provide would be seamlessly integrated.
Well, I guess some of that is kind of true. It was smooth all right. If you blinked, you would have missed it. We picked up the phone one day and instead of Manchester or Glasgow, we found that we had been routed through to a centre in Bangalore.
Okay, its true are skilled workers out there, and some of them do speak quite good English. However, my experience so far with Indian call centres hasnt been all that good. On one occasion fairly recently, we had such difficulty understanding each other that we decided to communicate on MSN Messenger instead. To be fair to the help desk operative, they did in fact solve the problem reasonably well, but I dont think that the average person ringing up their bank could be expected to do this.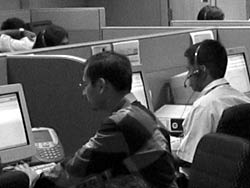 Some people naturally speak louder when they are on the phone, and sometimes if there is a bad signal they will often repeat what they have said several times. Perhaps one of the main reason we resent people using a mobile in close proximity to us is because we only ever hear half the conversation. It doesnt make sense. We are naturally curious and like a puzzle with half the pieces missing we frustrated by being unable to see the complete picture. I completely understand why a company would want to outsource their customer service department to India. Its about saving money. We all want to save some money dont we? The call centre employees have an average salary that is about one fifth of their UK equivalent. You can save a whole lot of money just by using some cheap foreign labour and who cares about the jobs that have to go here in the UK? Come to think of it, who cares about the customer suffering thanks to this, the latest bout of managerial stupidity?
Time to come home and call home!
Leave a comment