26 comments Add a comment
What a complete irritation it is to have to sit behind HGV drivers who have appointed themselves as gatekeepers of the road on the approach to a closed-off lane on dual carriageways and motorways.
I think that the origin of this behaviour was to stop car drivers whizzing up to a closure at motorways speeds, before suddenly cutting back into the open lane or lanes in a dangerous manner. All well and good, although it is still not clear who asked lorry drivers to police this particular habit.
However, what we now find, as I came across just this morning on my way into Birmingham City Centre, is lorry drivers doing the same thing when traffic is travelling very slowly. The main A38 tunnels through Birmingham are currently closed, so traffic travelling along the A38(M) finds that the road is coned off into one lane close to the city centre. And there he was in his truck, sat in the outside lane with 300 yards of clear carriageway in front of him before the cones started, forcing every vehicle to queue in the inside lane for a far greater distance than was necessary. Why?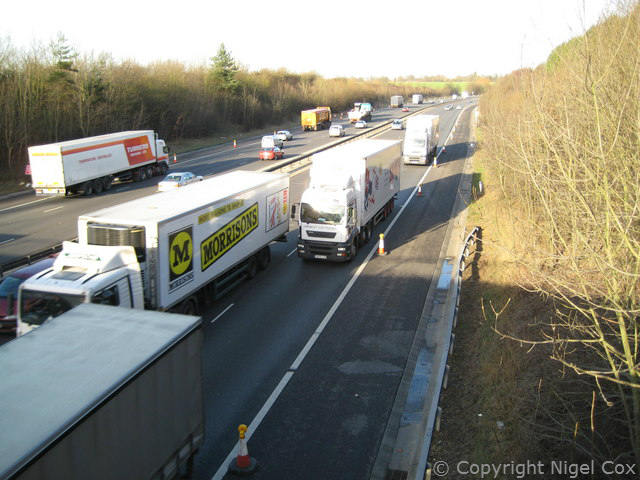 I can only imagine that it must be out of a desire to enforce a particularly British kind of 'manners' when queuing. True enough, nobody likes anyone pushing into the supermarket queue. But this is not a shop, it's a road. The Highway Code rule 134 states, "Merging in turn is recommended but only if safe and appropriate when vehicles are travelling at a very low speed, e.g. when approaching roadworks or a road traffic incident. It is not recommended at high speed." To me this basically says it all really.
Lorry drivers acting like nightclub doormen are neither needed nor welcome on our roads. They just make congestion worse by denying other road users the right to safely use a clear section of carriageway. It is not 'pushing in' or 'cutting in', it is merging in turn as recommended by the Highway Code.
So, lorry drivers, listen up. Just get on with your driving, don't seek to modify others' behaviour. You are not police officers, so it is no business of yours. All you achieve is worse congestion and annoyance to drivers. Or is this the true aim?
By: George Doors
Leave a comment