188 comments Add a comment
I'm sick and tired of getting stuck behind a slow lorry in the morning on the way to work, and those Tesco delivery trucks are the worst! Actually its not so much the lorry that is the problem, rather the queue of cars poking their nose out to have a look every five minutes only to realise that they can't do anything about it.
I know some car drivers get fed up because they can't get past slow moving traffic particularly lorries and tractors. As you might have guessed, I ride a motorbike to work and for the most part would probably just shoot straight past the lorry as they go so slow and we can accelerate quickly. Unfortunately it isn't that easy when there is a long queue of cars behind them. It kind of reminds me of big metal snake with the lorry being the head and the cars making up the body and tail. What a nightmare, and I'm sure its no picnic for the people trapped behind their cars. It would be really nice if a few more of them kept an eye out behind and moved over though.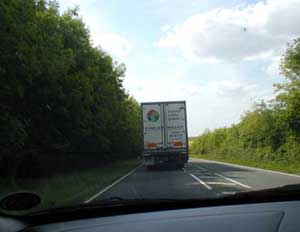 I had this crazy idea the other day about banning all the HGV and farm traffic from the road during peak hours, say between eight and ten in the morning and then four to six in the evening. Okay it probably wouldn't be very popular with the truckers or the haulage companies, but just imagine how much easier it would be to get to work in the morning. All we'd need to do then is remove the school run mum and hey presto! - congestion problem solved.
No seriously, probably not an ideal solution but with the rising cost of fuel, more cars and more toll roads it will be interesting to see just how things are going be in the future. &nbspI doubt that there is anything that can really be done about growing congestion problems not just in the cities but on the suburban and country roads as well. At the end of the day people need to get to work and the shops need to be stocked with goods. We'll just have to live with the snakes in the morning!
Leave a comment