388 comments Add a comment
Plenty of people complain about drivers speeding, drink driving and tailgating etc. But there are other types of driver; maybe not so obvious that are still a menace to the rest of us.
It's the slow driver who dithers along completely oblivious to anyone around him or her. How many times have you encountered one of these on the motorway or on a winding A road?
Why do they do this when their car is more than capable of travelling at speed?
Also, I have noticed that people who drive powerful cars who tend to drive at least 10 mph under the speed limit at all times. They then brake for a ridiculous of time when going into a corner, making you're journey both time consuming and frustrating. Why do they do this when their car is more than capable of travelling at speed? Of course having a powerful car doesn't mean you should race around everywhere and put people at risk!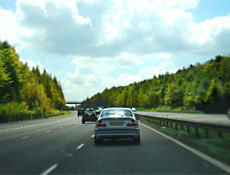 Another example of slow driving that can be dangerous is when people go onto the slip road of a motorway or dual carriageway; they pull into the main line of traffic nowhere near the speed limit causing all sorts of chaos. This kind of driving could just as easily cause a serious accident in the same way as a speeding driver might taking careless risks.
The fact is accidents can just as easily be caused by slow drivers and this is specifically true of some old people, who in my opinion should have to retake their driving test. Why do we need speed cameras to stop people speeding? They need to sort out the old people who drive too slowly as well as the speeders! I think these people are just as dangerous on the roads. It's all very well targeting speeding motorists but I think drivers that go so slowly that they are a hazard should also be under the spotlight.
Let's have some common sense on the roads please.
Leave a comment