433 comments Add a comment
Lorry drivers, how rude and selfish can you be? When another very slightly faster lorry is overtaking you, why do you have to stay side by side at your cruising speed instead of just throttling back a bit and allowing your "competitor" to pass quickly?
You see this happening all the time on the motorway. You are driving to your destination minding your own business, then suddenly you hit a load of traffic, you look just ahead of this to see what the problem is and nine times out of ten there are two lorries side by side in some kind of snails race to the finish line.
The result is that the cars coming up on this obstacle have to filter by in single file on the outside late. If youre really unlucky and its only a two lane dual carriage way you can be stuck behind these two duelling HGVs for quite a few miles.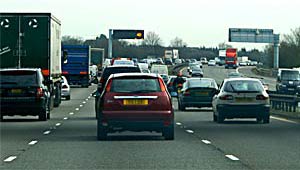 Two lorries create a rolling roadblock
Why are they so selfish? Im not sure who is to blame, be it the overtaking lorry that cant go fast enough, or the one on the inside that is just being a selfish pig by not letting the other one pass quickly. Yes I know we all need the goods that lorries transport every day, but Id rather not follow them up the motorway to their final destination!
This slow overtaking needs to stop as it causes bottle necks on our already choked road system. Two lorries attempting to overtake when neither of them has enough speed effectively creates a rolling roadblock. This seems like a very dangerous practice to me and should be made an offence, just like undertaking!
By: Technohippy
Leave a comment