11 comments Add a comment
It's about time parents stood up to their kids and stopped buying them Lego models. Why? Simple. Lego is supposed to be made, dismantled, made again into something else, dismantled, made into something new, dismantled, remade with refinements and of course dismantled again... you get the idea! Additionally, Lego is designed to be stored in its dismantled state in old ice-cream tubs.
Lego - Star Wars Republic Fighter Tanks
Pity the household where table and bookcase surfaces are bedecked with Star Wars Republic Fighter Tanks, Indiana Jones and his Lost Tomb, and Spongebob Squarepants Good Neighbours at Bikini Bottom. Surely the DVD player and TV screen are the natural home for those sorts of toys (much more compact for a start). The one positive in all this is the excuse I have to refrain from dusting, lest the delicate models be disturbed and stray pieces be displaced into the path of the vacum cleaner.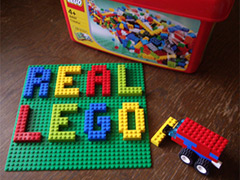 Woe betide any adult who dares to suggest that models are disassembled and fashioned into something original. No, Lego play is now about completing sets and placing trophies on display, as if to demonstrate the instruction following abilities of the maker. What ever happened to using good old fashioned imagination?
It's well known that, weight for weight, Lego is more expensive than gold; Even so, the Government should combat this nonsense by applying high rates of tax to Lego kits, while reducing the VAT on straightforward Lego buckets. In fact I'm confident the Secretary of State for Education and the Chancellor of the Exchequer will implement this measure. They look like the sort of people who would have played with proper Lego in their youth! Look out for the e-petition at number10.gov.uk.
By: RikGreen
Leave a comment