9 comments Add a comment
It's probably an appropriate time to bring this one up as Christmas is just around the corner. I've just spent a couple of hours sorting through toys in my daughters bedroom to see what she's outgrown, what's become lost and broken etc. It has actually been quite an eye opener.
One thing is blatantly obvious and that is that children's toys aren't at all what they used to be. I know that's probably a tired old expression that you may have heard your parents use, but it seems to be true now more than ever.
Children's toys are just very gimmicky these days. Over complicated and brightly coloured moulded bits of plastic that don't really do anything and have no real value other than to serve as a brief diversion before the child moves on to the next worthless piece of junk.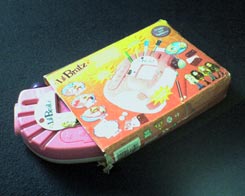 They are more often than not quite poorly manufactured and as a result will not last very long at all. This is something that is quite unacceptable because some of these toys cost a small fortune. Of course the big toy companies that make these toys need to recoup some of their heavy advertising costs somehow! In this country we spend a fortune each year at Christmas on the kids, but I don't think the toys live up to the glitzy adverts.
Some children's toys I suppose aren't so expensive, but you get what you pay for and that is where the quality and value for money really starts to take a nose dive! If anything they get even more gimmicky and pointless! All this new stuff is just trash and that's where it will probably end up before next Christmas.
Leave a comment