238 comments Add a comment
There are plenty of shoe shops up and down the high street, but I have been put off in a big way by one of the larger shoe retailers here in the UK. I went shopping for childrens shoes today and I had what can only be described as a really bad experience in a Clarks shoe shop.
First of all, I wasn't exactly taken by the shop layout. The allocated section for child shoe sizes was at the back of the shop in a tiny little corner that you could barely squeeze one pushchair into. On this occasion there were several of them in the vicinity and it was complete chaos.
How about a bit more space for parents with shopping and children?
Not only was the children's area inadequate if there were more than a few parents, but there didn't seem to be anyone around to measure my child's feet so that we could get the correct shoe size. Not exactly over staffed then!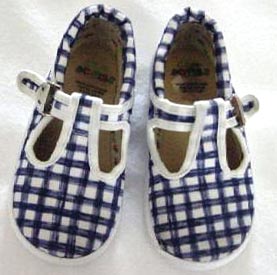 ... shoes that are the correct width as well as size
Getting shoes that are the correct width as well as size is important in my opinion which is why I would have preferred to have my child's feet measured properly.
Okay, so we have a look around anyway to see what we can find. On previous occasions we've gone out and bought shoes that were a size 6E so we will start there. Now anyone that knows children's shoes will know that this is actually quite narrow in terms of the width of the shoe.
I spent a good while searching, but what I found was that there was not a single suitable shoe in the shop. Nearly all of them started at size F. The only pair that came close were a pair of canvas "Doodles" which wasn't really what I was looking for in the first place. Other shops have said that these types of shoes are big fitting and to be honest they did indeed look massive!
Why aren't shoes made in the complete range of width fittings? Also, it would be really helpful if they catered for parents with children a bit better than they currently do.
By: Lucy
Leave a comment