130 comments Add a comment
Is democracy a system we really need anymore? For a long time now, our parliamentary politicians have become steadily more useless, steadily more corrupt and greedy. The wishes of the public are continually ignored and while we seethe in frustration, our politicians award themselves handsome pay increases, inflated pensions and peerages to ensure they are suckling at the political cash cow until the day they die.
The wishes of the public are continually ignored
We allegedly live in a democracy, yet in truth; a vast majority of the voters in this country either failed to vote, or voted for a party other than New Labour in the last general election.
We are supposed to have a secret vote, but this isnt true, everyone has a unique poll number and that number is logged on a vast database so parties can target potential votes and assistance the next time round.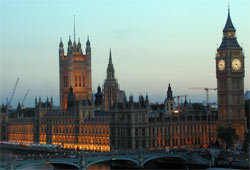 But look at the alternative:
Dictatorship: A dictator will, against the will of the people enact laws to suit their own ends.

Err! HELLO!!
A dictator will pass statute law that decreases the rights of the people with free speech, freedom of movement and freedom of thought.

Err! HELLO!!
A dictator will ensure that those close party members or financial backers will receive unearned rewards.

Err! HELLO!
The incumbent politicians of this and previous parliaments have continuously eroded the democratic principles to such an extent; we can scarcely recognise the country that our forefathers fought two world wars for.
If were going to be honest, lets just drop the pretence and get ourselves a dictator, any flavour will do, but at least well know what weve got.
By: Twatty Maldoonican
Leave a comment