433 comments Add a comment
It is time this government went. In fact, in the UK it is time the whole political system was overhauled to do away with the timewasters, the politically correct nonsense and the unfair and ineffectual policies.
If you look at many of the gripes on this site, you'll see many people in this country have a similar frame of mind. Firstly, the harder you work the more you get shafted. Secondly the less you do or are prepared to do for yourself, the more the government will reward you for your laziness. Thirdly, the laws in place to govern this land are outdated and the legal system and politicians are unable to keep up with this mess of a society they helped to create.
How's this for an idea; a party that is based upon common sense, best practice (modelling against successful political systems) and rewards the right-doers in society; a party where greed and personal betterment is set aside in favour of gaining by helping others, working collaboratively and being more community rich. However, in this case the proof would be in the pudding of decent policies fairly carried out rather than empty rhetoric poorly executed.
Thatcher's Britain has left a legacy of personal greed
It seems to me that Thatcher's Britain has left a legacy of personal greed, hostility towards others, and has stripped this country of what were once its proud assets (and many other negative things besides). That was the start of the rot and it has just got worse year upon year.
Personally I choose not to vote as I have no faith in any party to govern this country morally or correctly and I view the political system as inherently flawed and corrupt. I believe when voting that a vote of no confidence should be allowed to be registered. Many of us dont vote simply because we do not wish to be responsible for the abomination that will form the new government. I am proud of the fact that I never voted for Thatcher, Major, Blair or Brown. I would only have myself to blame for this mess if I had! I hear you say, 'would you prefer anarchy then?' In actual fact I would prefer not to vote at all if I don't want to choose to be governed by any of the available options.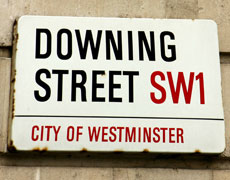 It is time for a change and no, that doesn't mean the Tory party should be our government instead of the labour party. That is exactly what people will do though, not because they believe in Tory policies, they will simply get the Tories in because they don't want a Labour government any more. Then the Tories will of course screw up again and people will want Labour back. We are going round in circles with no other serious rival to those two parties at the present time.
Lets get real, this is not a democracy (where are the referendums and Mr Browns election this year?). Where are our rights to privacy, peace of mind or fairness? Ill tell you where absolutely NOWHERE until things change significantly.
By: Disgruntled UK native
Leave a comment