18 comments Add a comment
I grew up in a mining village and lived through the eighties under the rule of Margaret Thatcher. From my childhood I know a little about living in a forgotten land, and whilst the Tory's were supping champagne in London we weren't having so cosy up north. My working class parents voted Labour as did I suspect their parents before them, and throughout my adult years I too have voted Labour... that is until recently.
It all started when I began to see this country run into the ground and what was left handed out to anyone who wanted some. This wasn't the same kind of betrayal that we experienced in the Thatcher years, no this was something new. It wasn't blatant disregard for working class people where at least you knew who your enemy was. It was more like a smile with a hand firmly clasped on your shoulder to distract you as the knife slides slowly in from behind. That's the best description I've got for the way the Labour party operate these days.
Jeremy Corbyn is a very dangerous man in my opinion and until he made the news during the leadership campaign I must admit I didn't really pay him much attention. No doubt Hitler went by unnoticed too and whilst I can't exactly draw on too many parallels there, I still think we should all be very careful of this man.
There are a few of Jeremy Corbyn's policies that give me concern. First of all is his ambition to scrap the Trident program and leave Nato. I know a lot of people - mainly tree huggers and delusional optomists are all in favour of this, but I don't think it's a sound idea at all... leaving your country defenceless I mean. Probably a smart thing to do if you've got your own agenda and you're not that patriotic though, OK, we'll think about that one.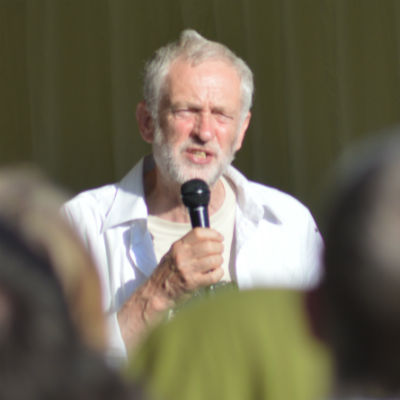 Jeremy Corbyn ... he squirmed like a worm on a hot stone
The next thing that caught my attention was the fact that Corbyn won't back an EU exit. Why not? Do you really think staying in the EU is good for Britain? Have you seen the hordes of refugees and migrants banging on our gates recently? Fair enough some need help (thanks Angela Merkel), but some are just looking for an easy life without having to work. That's probably what I'd do next if I wanted to destroy the country - keep us in the EU!
So if you really want to show complete and utter disrespect to a country what else can you do? OK, you can shrug off a few traditions such as singing the national anthem and kneeling before the Queen at the Privy Council ceremony. At the time of writing this has yet to be seen, but when questioned on the subject he squirmed like a worm on a hot stone.
No, to my mind this man is neither patriotic or for the people of this country and should be watched very carefully indeed. I for one will not be voting Labour whilst he is their leader and I think that only a fool would trust him.
By: Not voting Labour again
Leave a comment