102 comments Add a comment
Gordon Brown Limited. Everyday I see this mans face in the media and I always think what are we doing with this joke? Seriously.. OK Tony Blair had his faults, but I was better off and never worried about my job, money, mortgage bills, that was never the case under Blair. But now I seem to be very concerned about my future, and how I can pay the bills.
OK, the credit crunch is from the US housing industry, lending money to people that should not have received these loans. Then of course oil prices go up to fill the gap and of course there's the Iraq war, but Gordon Brown was in charge of the UK purse strings for 11 years and not once planned for a credit crunch.
Also what about this whole 10p tax issue? What I don't get is this, 'get children out of poverty' thing that he seems to bang on about, and yet he decides to abolish 10p tax?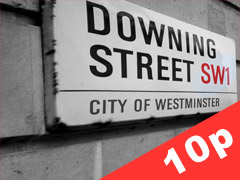 Now on to the 42 day terror detention issue; he puts his time and effort into making this go through because apparently voters want it? OK, if they do then why not spend time and energy in lowering fuel duty, because we DEFINITELY want that! Then bring back 10p tax, or better still nobody pay tax on the first 10K of their earnings. Such a bold move would pull a huge number of people out of poverty in one stroke!
I just don't get this man at all. His opinion polls have slipped and when he stops speaking and does this irritating thing with his lip. I kind of find that annoying for some reason... He reminds me of one of those cocky math teachers that aren't all that good at teaching. That's just my thoughts on Gordon Brown.
Anyway, Labour ministers close to him seem like him for a reason and I don't know why? From day one when Gordon Brown took over from Tony Blair, this country has been nose diving into debt, anti-social behaviour and chasing laws through parliament that quite frankly are a joke. I really wish MP's would pull there heads out of there Butts and start listening to the public for a change!
By: Mark
Leave a comment