38 comments Add a comment
My main gripe is knowing, soon after you have sat down to be interviewed, that the job you have yearned for for so long... is going to someone else (probably internally) and that, no matter how good you think the interview is going, at the back of your mind you know you're not gonna get it!
How do I know this? Well, recently I went for an interview at the local Council, a job that I have done within another Council. Brilliant I thought, bound to get it! How wrong could I be? Firstly, I had put more effort into my clothing than the 3 panellists, never a good start if you are being interviewed by 3 women (they get jealous don't you know). The next thing was being confronted by 3 blank faces whenever I answered a question, totally disinterested in what I was saying even though they wrote down SOME of what I said. Also, one question tends to lead swiftly on to another and I am not asked to elaborate on my skills, whether they be interpersonal (God I hate that word) or typing, it all becomes, well, rushed is the best I can describe it.
... given this job to an internal candidate judging by the total lack of interest
Then comes the phone call bang on 4pm. I reckon they always ring up the unsuccessful candidates first to "get them out of the way." Then you get the dreaded words, "Your interview went extremely well....but" and the excuses come after that for me not getting the job, namely I didn't elaborate on my skills (well, you didn't ask I'd be tempted to say). Then you put the phone down and think about what you should have said which is, "It's obvious you have given this job to an internal candidate judging by the total lack of interest shown by the 3 of you." But I didn't... I just took it on the chin instead.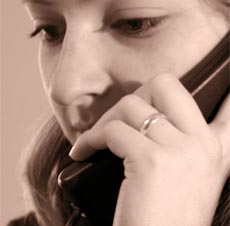 Another example of a job being earmarked for someone even before I sat down to be interviewed was a couple of years ago, for the NHS. The 2 women on the panel had pen and paper but CHOSE NOT TO WRITE ANYTHING DOWN! Not surprisingly, I didn't get the job and the woman "rejecting" me on the phone said the reason they didn't write anything down was "we wrote detailed notes from memory after the interview as we found it can be very off-putting for candidates." Yeah, right!
The way to win over people in an interview is simple; smile and hope for the best. The first few seconds count! One woman got a job where my Mum works because the interviewer "liked her suit." If they go the other way and become jealous there's not a lot you can do about it!
By: Jane
Leave a comment