53 comments Add a comment
Like many people out of work at the moment I'm spending quite a bit of time contacting temporary recruitment agencies in an attempt to secure some temporary work to bring in a bit of cash to make it through the hard times. whilst the response isn't overwhelming and I don't expect a job straight away, I have found a disparate level of common courtesy and professionalism displayed by these agencies.
This isn't the first time I have required to find a bit of temp work to make ends meet, the last time was back in around 2002. We weren't in a recession then and the attitudes of employment agency staff was considerably different to what I have experienced in the last week. I know this doesn't apply to all recruitment agencies and the people who work there. Many of you may well be very helpful and perhaps it is just the area where I live where the employment situation is dire.
For example when I came out of one recruitment office I visited recently, I felt like a piece of dirt on the bottom of someones shoes. I walked in and politely enquired about temporary work only to be told by the young girl to "Just add my name to the bottom of the list." It wasn't what she said, it was the way she said it. A polite "sorry, we've nothing available, but we'll take your details" would have been welcome. Instead I felt like I was an intruder and just getting in the way as I added my name to that very long list. I was then instructed to fill in the the "Type of work" column with something other than "Anything". She was clearly fed up with people not specifying what they wanted to do. Was there that much choice of work at the moment? Somehow I doubted that. Besides, wouldn't it make more sense to have a column where the job seeker could just list their relevant experience? The sad fact is that a great number of experienced people are capable and willing to actually do anything for the minimum wage at the moment. I am one of these people.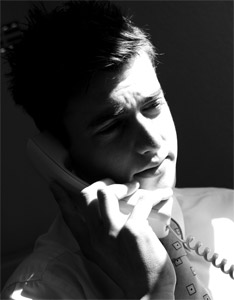 Most of my experience is IT based and I once earned a very good wage. Things are a little different now, my skills aren't as current as they could be and there is a lot of competition from younger, more ambitious people. Why wouldn't an employer take on a young bright spark rather than yesterdays high mileage version? Silicon soup kitchen may yet become a reality, but I'm rather hoping that the job market may pick up again by the end of the year and it won't come to that.
agencies - they say they'll call you back and then they don't
In the meantime though, I still have my pride and prefer to work for a living rather than survive on handouts. Actually, I avoid mentioning anything to do with IT now because of the negative reaction it seems to get. There's always that look of 'What are you doing here then?', and you just know that you've been filed somewhere to the bottom of the list because they just can't believe you'd be prepared to take on a minimum wage job.
Another thing that bugs me about recruitment agencies is when they say they'll call you back and then they don't. If you say you're going to call someone back then you should do that. If you have no intention of calling back just ask them to ring you in the morning or later on in the week to see what the situation is. Don't say "I think we've got something, I'll just check and call you back shortly." You're just wasting my time and getting my hopes up unnecessarily!
I'm sure at the moment temporary recruitment agencies are quite a bit busier than they were say twelve months ago, but the people who work there should not forget that the ones on the other side of the desk seeking work are in fact real people with feelings. If you're working in recruitment right now (temporary or otherwise), perhaps you should consider yourself very lucky indeed. You have a job and an income.
Leave a comment