12 comments Add a comment
My boyfriend and I have known each other for over ten years. We grew up together and went to the same high school and we were also neighbours for years. For nearly seven years I was in a relationship with my high school sweetheart (not him), but I started to get those feelings for him after becoming best friends with his sister.
We would hang out together and he just became interesting to me. My boyfriend at the time cheated on me so we the relationship and I started seeing more of my current boyfriend. The result was I fell for him even more.
To cut a long story short five years later we finally started "dating" properly after several episodes of drama in our lives, both by ourselves and with each other. He has a hard time warming up to (read as trusting…) me because his ex-girlfriend cheated on him and got pregnant by his best friend. I wasn't out to hurt him, nor get hurt myself. I just wanted to offer him the love that I know I can give faithfully and unconditionally.
So we started dating in December of 2006 and ended up together as a couple in May this year. It took for me to bail him out of jail and use my "people" to get him out of trouble for him to realize that he loves me. I know he realized it before hand, but he hadn't told me up until this point.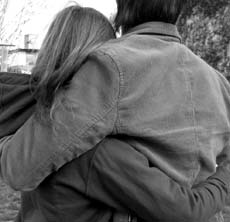 I guess my gripe is this: I got him out of trouble and for that I feel like he feels he owes me in some way. I just want his love and admiration. He has since moved in with me. We have been living together for the past 3 months and I just don't see him the same way. I know that I love him but I feel that he is going to depend on me all of the time to fight his wars. He is a good guy, he works and pays his bills and isn't a trouble maker at all.
It's his friends that I could care less for. He is now 27 years old and he has all of these 21-23 year old kids looking up to him, but these kids are in the wrong world if you catch my drift. I just don't know what to expect or how I should bring up what I feel about our whole situation to him without sounding like I am a crazy psycho girlfriend who hates his friends.
I don't want to choose his friends because I don't want him choosing mine. I just want us to have a healthy relationship. Any suggestions on how to bring up how I feel about our whole situation?
By: Looking for a way in…
Leave a comment