31 comments Add a comment
Orange pay as you go, well it's great until you're right the middle of a phone call and you get a text message to let you know that you have sixty seconds of credit remaining. The text message somehow ends the call, even though you've still got credit left. Unfortunately you don't get to finish your conversation and you then don't have enough credit to phone the person back. That sixty seconds has just been wasted - thanks Orange!
This has happened to me before and I'm fed with being cut off mid conversation. Of course I then decided to ring customer service to complain, but ended up stuck in their endless automated menu system instead. You get to top up your credit, report you're phone stolen etc., but that's about it. Where are all the customer service people?
Can't they just put something on the menu that allows you to speak to a real person, because at the end of the day that's all I wanted to do. I don't want to sit here pressing numbers and waiting to hear more options. I'm sure I'm not the only one that gets fed up being stuck in a loop, transferred from one set of options to the next. You know how it goes... press 1 if you want this and press 2 to continue, or option 3 to go and join another endless queue. Arrggh!
I'm guessing that this is just a way to cut costs in the area of customer service. Why should it cost you to phone customer service? It never used to cost anything to ring them in the past.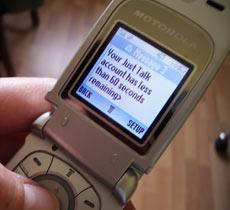 By the way, the reason my credit was low to begin with was because I got conned into ringing an 0870 number to chase a missed parcel delivery. I'm fed up with being ripped off left right and centre, first by this premium rate number and finally by Orange when I had managed to track down a geographical number and was in the process of speaking to someone. I'm actually getting fed up with the costs of mobile calls as well, almost to the point of chucking the thing away and using phone boxes. There again, it costs a minimum of 40p to make a call there as well so maybe not! I'll probably end up putting a tenner on and using it for emergencies only from now on.
As it happens, I finally managed to track down a free number you can call from any landline. You can call orange customer service on 0800 079 1050 if you want to talk to a real person. I called them to vent my spleen because I was so fed up with that text message that interrupted my call.
Okay, so how do I stop receiving texts from Orange when my credit is low? The nice customer service advisor I spoke to let me into a secret. If you reply to the message with the following: "STOP ALL" as a message, you wont get any more of these annoying texts. It's an automated service so no need to speak to anyone!
By: George
Leave a comment