50 comments Add a comment
Dear Sir/Madam,
I am writing to request the cancellation of my sky subscription. This follows a particularly unnecessary and farcical episode on your notoriously inaccessible telephone system. Let me expand.
I initially rang through to the sky talk telephone number advertised (a) on the Internet and (b) in written correspondence from yourselves (sky). The letter I received informed me of an opportunity to save money by paying you (sky) for my landline rental instead of British Telecom. "Splendid!" I thought. "Ill give them a quick ring and have them (you) switch me over straight away." How stupid was I? (rhetorical question no need to answer).
Well, in my naivety and blissfully self-deluded ignorance, I was completely unaware that this letter you (sky) had sent me was in fact a deceptively cunning trap to try and make me lose my normally impenetrable cool. You crafty bleeders you.
So yeah, I unwittingly rang the number and morphed into a figurative "Skinner rat," pressing lever after lever (buttons on my phone to you and me), scuttling along your telephonic system pathways, searching aimlessly for my food pellet.
Call centre person one, an autistic chimpanzee whose universe operates at half the speed of ours, nice enough, who kindly informed me I had come through to the wrong person. He put me through to sky talk "something," difficult to work out what he said to be brutally honest, as he appeared to be choking on his tongue. So, next call centre person two. I repeated my intentions only to be informed after whittling off my name, first line of address, post code, telephone number and password that I really needed to speak to sky talk "telesales." "God Im stupid I thought, why didnt I think of that?"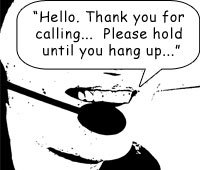 Call centre person three, a cerebrally challenged "alien" who feels mumbling down the telephone is in some way helpful to the person on the other end. Its unclear, after shpeeling my name, first line of address, post code, telephone number and password whether he was talking to someone in his office, me or himself. Long story short (arf arf), through the "art of mumble" it was conveyed to me, that my seemingly simple request was not possible as my broadband had not been activated, and he needed to consult a wise and trusted advisor known as a manager. One consultancy later, I was then transferred to a customer advisor. Call centre person four, a nice happy chap with the warmest of Scottish accents greets me, "Hello how can I help you?"
I drew the line at saying "how the f**k should I know?" So off we went again, name, first line of address, post code, telephone number and password. In fairness, this call centre person was very helpful. He told me that my account had only been accessed by one person even though I was now talking to the fourth call centre person, and no notes had been left by cerebrally challenged alien guy, which wasnt exceedingly helpful to him. So, he put me back on hold (I wont try and keep count of the number of times I was on hold as I only have 8 fingers and 2 thumbs) and went off to speak with someone from "sky telesales." Ill give you an opportunity to guess what happened next?
OK you can see a pattern here, and you guessed it, I was transferred back to "telesales," who would attend to my request and drop me my "food pellet." If only!
Call centre person five, now explains rather slowly for me "the dumb customer" after we did the whole name, first line of address, post code, telephone number and password thing, that I cannot have my food pellet as my broadband was switched in January 2008, and until this is activated, my request cannot be granted. So, here goes my cool, you win guys. I asked him some questions... "Who switched my broadband from broadband connect to another kind not even on your website?" "Why wasnt I informed?" "How can my broadband not be activated seeing as Ive been using it for over 10 months?" "How long does it take to switch it from January seeing its now April?"
Reasoning this out logically, I must commend you (sky) on your Machiavellian trickery and subterfuge with regards to this time wasting exercise, I will remember the hour of my precious life you stole from me under the guise of "an opportunity to save money" with a wry smile and a warm cognac in my hand whilst my grand children play carelessly scattered round my slipperd feet. I am so life-changingly impressed by your (skys) clinical precision and painstakingly meticulously executed plan to steal this hour of my life, I thought I would give you one too.
Anyway, back to the story. I decided Id rather be publicly pulled naked over broken glass by 10 wild stallions through the streets of London, then thrown in a bath of sea water whilst listening to west lifes greatest hits album than continue to subscribe to sky. I mean, I pay for the pleasure of this mental torture, how dumb am I? Call centre person five said "Ill put you through to customer service." He didnt. He put me back round the telephonic maze I had been on for an hour to really yank my chain. However in his defence, I would have done the same considering some of the complimentary statements about sky I included in my departing speech.
Call centre person six, "how can I help you?" Guess what we did next? Bingo! Name, first line of address, post code, telephone number and password. This lady (call centre person six) wasnt able to cancel my subscription. No s**t! But she could transfer me through to someone else. "Fantastic" I thought. Another thought also crossed my mind, could I maybe get the world record for speaking to the whole of skys telephone workers in one day? Ah if only I had the time eh.
Call centre person seven, he told me his name, as I recall it was Steve but dont quote me I had all but switched off now. Then, after doing the whole name, first line of address, post code, telephone number and password thing again, he had some of the best news yet. He explained I couldnt cancel my subscription as it was 46, I repeat, 46 days until I had been subscribed to sky for a year, 12 months, the minimum period of mental torture and food pellet chasing I had signed up for. See how naive and blissfully self-deludedly ignorant I am?
So, call centre person seven was quite happy to announce he could only process my cancellation of this subscription from a maximum period of 40 days. Guys, I hand it to you; you had the trump card all along. Dont try getting me round for a poker night. I know when Im out-smarted.
In summary, you can maybe see the journey I travelled with you (sky) today, along your torturous telephonic maze of cruelty. Going from slightly upbeat, carefree, light n breezy loyal paying customer to bloodthirsty homicidal psychopath that would quite happily of removed the still beating heart of call centre person seven and impaled it on my front gate as a warning to unbeknown canvassers of digital media products that foolishly darkened my doorway.
I only wanted to pay you (sky) for my landline rental. Something which wouldnt have occurred to me to do, had you not suckered me in with your aggressive unrelenting deceptive marketing campaign. Now, I just want to end this contract and switch to a TV, phone and broadband supplier who will hopefully finance the removal of my pre-frontal cortex, and if Im really lucky, employ me as part of their telephone customer service team.
Yours Faithfully
Gary Smith
Ps: If you receive this letter before the maximum 40 day period of subscription cancellation, may I be so bold as to suggest you hang on to it until the said period has elapsed and then process it.
By: Gary Smith
Leave a comment