37 comments Add a comment
I recently purchased mobile broadband from Vodafone to use with my laptop. Their returns policy is 14 days and I guess it was my fault that I had assumed all would be well and I could just use their service when I was ready. As soon as I started to use it I found that websites would take 10-15 minutes to load and then as soon as you clicked on a link it would take another 5 minutes to load or not load at all. I am not good with computers so wouldn't have known where to start so thought it best to contact Vodafone customer services.
It often took a while to get through. Twenty minutes was the average time and they were mostly foreign people. So trying to speak to them on a mobile in a bad signal area with someone who has an accent was very hard work. They were as helpful as they could be though. After speaking to someone at Vodafone a number of times and trying out various things, they told me it was most likely a problem with my laptop and I would need to get an engineer to look at it. I did this and if anything afterwards it was even slower with sites at times not loading at all!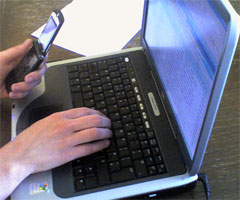 It was supposed to be a case of plug in and go...
I spoke to Vodafone again who finally determined I was having the problems due to the mobile signal where I lived and I would have to pay for a signal booster. I was not happy about this at all as I was not told initially that the broadband could be affected by the mobile signal. It was supposed to be a case of plug in and go.
In the end I had to tell them I was not paying for a service they could not provide and asked to cancel my mobile broadband 'service'. Cancelling wasn't exactly straightforward either. It took me 3 calls and the best part of a month to cancel my contract. The first time I phoned their systems were down so they couldn't help. The next time I called they said they could offer a discount and that was it. The last time I called I insisted on speaking to a manager. I felt that my only way out was to tell a white lie so I told them I was due to work from home a couple of days a week and needed access to the Internet. It seemed that was the only way I could get out of the 2 year contract I had signed up for. I had a mobile phone attached to the contract, so when they cancelled the broadband they the also cancelled my phone so I had to get that reinstated.
Please be warned, if you are looking to purchase mobile broadband that you make sure the signal is sufficient in your area to support it.
Leave a comment