218 comments Add a comment
I must admit to not having paid too much attention to the news in the last week or so. Having been job hunting myself for quite a while now, I've kind of had other things on my mind and not really had the time. However, I had a few moments too check the headlines this morning and what I read there put me off my breakfast. As a British worker, even though I don't work in this particular industry, I was left feeling more than a little betrayed.
In case you have also missed the news... Hundreds of workers across the country, mainly at oil refineries and power plants, have been protesting about the use of foreign workers at the Lindsey Oil Refinery in Lincolnshire. Total, the French oil giant who owns the plant has awarded a 200 milion contract to Italian firm IREM to construct the new HDS-3 unit at the site.
Well quite frankly, employing foreign workers when there are suitable british workers out there doesn't sit well with me even when the economy is booming, but we're in a recession now and I think that fact alone makes all the difference. Perhaps it's far too easy for companies in the UK to hire a foreign workforce and there should be insentives for employers to choose British workers intead. Make it so that employing the native workforce is the path of least resistance? There again, Total isn't exactly a patriotic British company so why should we expect any loyalty there?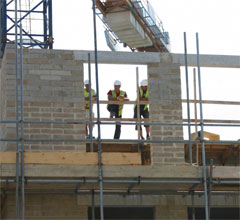 I don't think that it would be right to force companies to employ British workers and there are some cases when foreign specialist skills are needed. Come to think of it, there are few people out there that would say British workers are lazy, they're not as good and they cost more than foreign workers. Okay, some of that might be true, but for every slacker out there there are probably hundreds or even thousands of perfectly willing and competent workers waiting to fill his shoes. The foreign workers we see here aren't the dead wood. They're the ones that go the extra mile and work hard. We have people like that here too and I think that they should be given a chance.
I suspect there's no right or wrong answer in all of this, there's just a feeling of great injustice where British men and women don't have jobs where perhaps they should. I'm also pretty sure that our bumbling fool of a prime minister isn't going to do anything to help in any way whatsoever. They can hold urgent talks with industry leaders and be as optimistic as they like, but it's just too little too late.
So if you're out there on the picket lines this week, you have my full support in all this. Oh and another thing, I for one, will not be stopping to refuel my car at any Total petrol stations on my way to the Jobcentre! It's a small thing I know, but if enough people did small things maybe big companies and governments would pay attention.
By: Paul D.
Leave a comment