187 comments Add a comment
I was recently made redundant again and have been signing on at my local Job centre. Recently I was taken to one side by a woman claiming to be the manager, she asked me to start signing on at the main Job Centre in Leeds city centre. I refused and informed her I knew my right to sign at my nearest office. This really ticked of certain members of staff there and every time I signed on they continued to harass me about it.
Then my housing and council tax benefits where suddenly stopped without any notice. I called in at the local Job Centre to find out why and was told by one of the staff that I had failed to respond to a letter sent to me in December 2009, which made no sense at all as I only started signing on in January 2010! When I told him this he got all flustered and accused me of being threatening (I hadn't even raised my voice once!). Then last week I was called in to sign on and have an interview. The so called interview was at 09:40 and I was called to a desk and shown some minimum wage, dead end jobs. By the way I'm a Printer with an ex-wife and kids to support so a minimum wage is just not enough. I said none of the positions were suitable as the money was just too low. She said OK and I signed on at that point. I was then told that I could go and when I asked 'What about this interview?', she informed me that that WAS the interview.
On Friday my benefits were stopped as I was accused of saying 'I was not willing to work certain hours'. The working hours never even came up at the interview I did not know I was having! When I pointed this out on Friday she changed her story and accused me of saying 'I was not willing to travel to Huddersfield (for minimum wage)' . My point was the salary not the commute.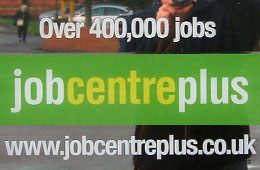 It's supposed to be for the long term unemployed...
So I now have no income, I have made a complaint and have an appointment with the manager on Monday. The manager is male? Who was the woman who introduced herself as the manager? Why was she so desperate to move me to Leeds? Well!!???
She is one of the 'new deal' gang, you know... the governments beautiful training plan. So I looked into this and my local Job Centre does not run the new deal as it's classed as a smaller office and its run from Leeds city centre. It all begins to make sense now. It's suppose to be for the long term unemployed and yet I had only been signing on for a month when I was collared? This 'new deal' thing to me seems to be all about providing cheap labour to large UK companies by forcing people to work for the minimum wage. Meanwhile these companies are cutting back on hiring there real staff.
I know there are some people who just will not work, and my god do they keep telling us about it! It gets your back up and you all over react and let the government pass new legislation which in affect hacks away at the very safety net that you may well be falling towards yourself in the near future as this country is about to go into economic meltdown. And now our government are treating us like their own live stock. I have paid handsomely into the British tax pot for twenty years and do not expect to me treated like scum because I lost my job. I am used to earning 30k+ within printing and I'm not willing to work for minimum wage. I was chatting to another guy in the same boat as me, his benefits were stopped as he would not take a minimum wage office job. The guy is a Chemical Engineer for goodness sake and has real skills! When will we the British public wake up to what's going on here?
I saw a picture on a political news site last week and it so summed up the British attitude to life. It was of four people in a boat, two at either end of the boat. The two at the front where bailing out the water as fast as they could, due to the hole at their end. And the two at the other end where laughing and thanking there lucky stars that the hole was not at their end of the boat.
By: Aleedsfella
Leave a comment