242 comments Add a comment
Hello Everyone, I would like to share with you my thoughts about the idle dole scroungers in this country. I for one, am fed up to the back teeth with the way things are and how some people can have an easy life doing nothing whilst others make all the effort and work hard.
I own and run a small shop and work around 50 hours a week. I am very lucky to own my own flat (outright) bought by hard work and saving since I was 16. This is in complete contrast to my upstairs neighbour. He is at least 20 years younger than me and in the three years he has lived in the flat upstairs he has never worked. The flat has broken windows, he sits outside the front of the property drinking all day, and the garden is an absolute rubbish tip (you get the idea).
Yesterday he mentioned to me (as I was going to work!) that the council has cut his housing benefit by £15 per week and he did not know how he was going to manage (such a shame). He then said he wants to look for a job, but nothing pays anything like what he gets in benefits so what was the point in working.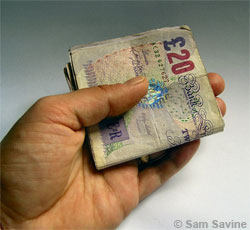 I earn just over £200 week from my own business, (this works out at around £4 per hour, well below minimum wage) and I honesty wonder whether it is worth working any more sometimes myself as my neighbour gets almost all of his rent paid in full, his council tax paid and claims disability benefit (for alcoholism?). So pound for pound this dole scrounger upstairs is far better off than me! Is this really fair?
I often see him getting in late at night after having been out drinking, getting out of a taxi no less! My work van is 10 years old with 150,000 miles on the clock and I cannot afford to take a taxi to the post office never mind go out on for a night of drinking.
Is it just me or is anyone else fed up of working long hours with little in return whilst others seem to have a great life and yet contribute nothing to society? The thing that tops it all off is that due to the way this man lives his life and the complete lack of upkeep of his 'free' property, if I did want to sell my home no one in their right mind would want to buy it! He has in effect made my flat completely worthless which means I have worked all of these years for NOTHING! I am sick and fed up of working hard for very little return when its all laid out on plate for the dole scroungers!
Comments are welcome.
Regards
Dave
Leave a comment