43 comments Add a comment
About a month ago I was on my way to the supermarket to do some shopping when I was approached in the street to fill out a short survey. I don't normally take part in these things but the woman seemed quite genuine and I was told that I would be entered into a draw for a £5,000 prize. Looking at the survey it really was 2 minutes and I ticked all the boxes (or so I thought) so that I wouldn't receive any junk in the post etc. I thought nothing more of it because the chances are slim, but there again if you're not in it, you can't win it or so the saying goes.
Anyway, I've just got off the phone to a company called CLC and the number they called from was 01268 557600, which of course I didn't recognise. The person on the other end of the line (you can never quite catch their name can you?) assured my that I had won a free holiday for seven days with all the flights paid for. I have to admit that they did sound very honest and genuine. Apparently I wouldn't have to buy or commit to anything and this was all the real thing. I was then given a code and told to call the travel company and was assured I didn't have to choose my holiday destination on the spot, but if I called straight away I could receive a further £50 worth of shopping vouchers. Furthermore, it was a freephone number so I really wouldn't have to pay a penny. The phone number I was given was 0800 988 9904.
I very nearly called that number, but luckily the alarm bells in my head had started sounding and I did what any suspicious person would do, I Googled those telephone numbers and of course the company called CLC. What I found was page after page of horror stories about lengthy timeshare presentations and the hard sell from some very shady characters.
It looks like lots of people have approached by these holiday companies trying to attract potential customers by dangling the free holiday. They're then subjected to up to these presentations and slowly ground down (sometimes up to six hours). Various unsavoury techniques are used to push you into signing including bombarding you with lots of confusing and contradictory information and even shaming people into signing up for a timeshare.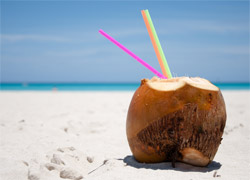 I had a lucky escape I think, but I have an idea what these things are like having gone along to one once before. We did walk away with a few vouchers on that occasion but I'm not sure it was worth the two hours of bullshit and the hard sell. These people really are the definition of lowlife and I don't understand how this kind of thing can be allowed to go on but apparently they aren't doing anything that's against the law. They're preying on some vulnerable people though, and yes I can see that there's an element of human greed there too. Who wouldn't like the idea of a free holiday?
The only thing left to say is: open your eyes folks because there really aren't any freebies in this world. You'll pay one way or another and fortunately for me this time it was only a bit of time researching and then writing this gripe. It's also put me off "sparing a few moments of my time" to fill in surveys as I wander up to the shops. Next time they'll be getting more than few questionnaire answers from me!
Leave a comment