31 comments Add a comment
That?s it I have had enough! I just can?t watch another so called celebrity show! Be it ice skating, singing, dancing, wrestling, cooking or whatever. I mean fair enough if the actually managed to get a Celebrity on the programme but its usually made up of failed pop stars and soap actors trying to kick-start a career off the back of the show.
The shameful disaster that was this years Celebrity Big Brother only goes to highlight how far this reality/celebrity nonsense gone ? too far in my opinion!
Aside from the alleged Racism endured in the house by Shilpa Shetty, we were subjected to the real dregs of the celebrity barrel, Jade Goody and her family, a member of the Jackson 5, Former S club singer Jo, the Face man from the A-team, Leo Sawyer, ?H? from Steps and Clio - who shares her name with Renault car.
Now just a bunch of washed up jobbers ...
Who are these people? They were all in the celebrity bracket once upon a time, but not now just a bunch of washed up jobbers who signed away their dignity when the agreed to go in the house.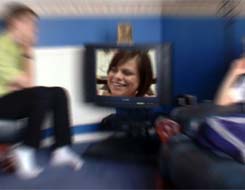 I want real entertainment back. Remember all those great shows where you used to have real singers, dancers and comedians? They used to call it a variety show and it was quite often compered by Jimmy Tarbuck or the like. Now every TV programme has a panel of ?expert? judges, a TV audience phone vote and then the heavily hyped up voting off part of the show! They are all the same!!! AAARRGGHHH!
In short I?m fed up of watching this tripe as it seems to have invaded every channel and every TV programme. I don?t suppose it will stop, so here?s my suggestion it?s called Celebrity Island. We take every celebrity who has appeared on these types of shows and dump them on an island in the middle of nowhere ? and leave them there!
By: Clarkey
Leave a comment