40 comments Add a comment
As we are fed our daily helpings of advertising, I felt it was really important to offer people out there some technology advice on what to buy. First of all, on the subject of Flat Screen televisions. Simply put, a flat screen television does not enhance your life, or make you sexy or help in any way with feeling good about yourself. It is still the same old crap on all 999 channels and unless you subscribe to HD, makes no difference to your viewing pleasure. Even if you do subscribe to HD, it still makes no difference, crap is still crap whether you view it in HD or not.
There, now you see - that's helped a lot hasn't it - you don't need that 50" horror taking up room in your house.
I'd like to further help you with other technology decisions you may feel you need to make over the course of the next few days and months.
... you don't need an iPhone, MP3 player, Sat Nav
Next, I'm sorry to be the first to tell you but you don't need an iPhone. You don't need to search the Internet on the move, or pretend you're an Apple zealot. You don't need a touch screen telephone/MP3 player/Sat Nav device and nobody thinks you look cool with one either. So there. Read a book on the tube/bus/train instead.
I have decided, on your behalf, that no one needs to buy a Sat Nav device at all, never mind an iPhone. You don't need one in your car or to carry one around with you. Buy a map instead, they are much better, more accurate and tell you more than a Sat Nav device ever could. You don't need a Kindle or a Sony Reader either now that I think about it. They use digital ink, but say printers ink is better, and a book is friendlier, nicer to look at and aesthetically more pleasing and who needs to carry 50 novels around with them.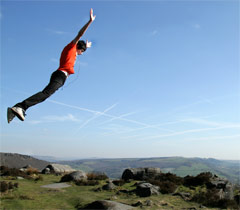 Someone's trying to extract your hard earned cash...
The last thing I want to help you with is watching TV or videos on your mobile phone. Don't. It's stupid a you'll probably hurt your eyes. It's pointless and it won't have escaped your sense of irony that in the house the flat screen TVs are getting bigger yet they want you to watch programmes on a screen about a millionth the size! Someone's trying to extract your hard earned cash by trying to convince you that you need those things or that you won't be hip, happy and sexually gratified without them. It's not true here are a few better things you can do with your money. Buy a book and read it. Anything by Stephen Fry is good. Listen to some music on a CD or Vinyl recording, it's much better than MP3s. Led Zeppelin, Joni Mitchel, Van Morrison, Beethoven and Arcade Fire are perfectly good. Which reminds me to remind you to go out and buy a proper Hi-Fi with separate bits, and make sure it's British, because we make the best Hi-Fi. Anything by Linn, Shearne or Meridian is acceptable.
There you go, read books, listen to music and best of all have a chat with your friends, family or colleagues, and don't talk about Big Brother or anything on the TV or anything the newspapers tell you. That way you'll be happy and fulfilled - or not.
By: Pimptastic
Leave a comment