48 comments Add a comment
I wish to gripe about the ridiculous media obsession with watching TV on the Internet. The Television set is one of the greatest inventions of all time. So when did we decide that it wasn't good enough any more, and we needed the ability to watch TV shows on our computers and/or mobile phones too?
Let's be clear: Watching your favourite shows in the comfort of your living room, with surround sound and a 37 inch high def screen, is a million miles away from huddling at your desktop to watch a postcard-sized jittery playback of something.
Yes, BBC iPlayer, I'm looking at you. What is the point, exactly? What makes BBC iPlayer (or other channels' equivalents) any better than simply using your Sky+, TVR or even VHS to record and play back the shows you "missed" on your "proper" television? What makes it better? Absolutely nothing!
Look, it's simple. If you want to watch a television programme, use your television. It's great. It does not require an Internet connection. It does not give a jittery low res image either. When did you forget that your TV set is capable of showing TV programmes?
The Internet was never built nor designed for delivering television broadcasts. Video gobbles up bandwidth, and it's very unfair to "normal" web users. Why should I struggle to bring up a web page because my teenage neighbours are hogging all the bandwidth by viewing the omnibus edition of Hollyoaks on their laptops? Why couldn't they just watch it on their TV instead, and leave the "real" web users to use the Internet?
And this whole "watch it again" culture that TV stations are trying to promote... No, thanks, I don't want to watch it again, I've already seen it. Stop telling me to watch it again. I don't want to. And as for the BBC "Making the unmissable unmissable"? Well, firstly, that statement is grammatical nonsense. But secondly, can somebody please inform the BBC that we already have video recorders, PVRs, Sky+, etc. and have done for a long time. So, thanks for the offer BBC, but your "invention" is about 30 years too late, and sadly nowhere near as good or as convenient as even the first Beta Max video recorders!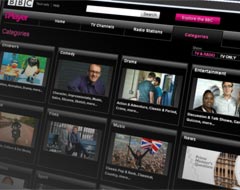 Do the likes of BBC, ITV, etc. think they are "clever" by letting us view their programmes on the web? What are they trying to prove? Are they trying to show off how smart they are with things like iPlayer? Well, here's the news: It's not clever, it's stupid, annoying, and pointless.
I don't want to get an FM radio signal from my washing machine. I don't want my toaster to play MP3's. And I DON'T want my computer to play back television shows. I have a perfectly good Television Set which does that job better than any other gadget ever will.
Television is NOT the Internet, so can we please stop trying to force television into this place where it doesn't really belong. It's a highly uncomfortable fit at best. Brief YouTube clips are one thing, but the whole EastEnders omnibus? NO! This obsession with broadcasting entire TV shows online is squeezing our bandwidth to breaking point and is utterly pointless.
TV online? Stop it. Just stop it.
By: Real Web User
Leave a comment