124 comments Add a comment
I have been Divorced for a couple of years now after my ex wife decided she wanted to be alone, start a new life and be totally independent.... which in actual fact was a lie because she now lives with a man who was previously a very, very good friend of mine. How blind and stupid was I? You see it's not just men that cheat - women are totally capable of adultery as well. After a few miscellaneous girlfriends I have finally found a decent, honest girl (yes there are actually some out there!) with whom I am happy. Good for me! My children who are aged 16 and 10 both get on with her very well, particularly my youngest daughter.
My ex wife has always been tricky to deal with. After the break up she basically took me for everything more or less, and this was due to me trying to do the best thing for my kids. She has lied her rear end off at every opportunity and as you'd expect, the lies has come out into the open now through natural events.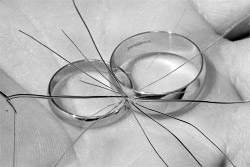 communication - now by message from the kids
My major gripe now is the spiteful games she is playing. She treats me like I was the one who ran off with HER friend. She is awkward and difficult at every turn when dealing with arrangements for our kids. Our communication is now so low that it is now only by text message or a message from one of the kids. It feels like she controls my life and I'm paying her for the privilege! The frustration I feel is massive!
The law in this country is so one sided when it comes to parents and kids. My ex wife has not worked for years spends money like water on a shallow life style which she is trying to impart onto the kids (this difference in parenting styles adds to my frustration). Perhaps I may sound a little bitter and twisted? Yes I most certainly am! But I need to get out of this downward spiral as it is consuming me. Does anyone else out there have an ex wife like this?
By: OrangePeel
Leave a comment