100 comments Add a comment
I received a call from CSA today saying my partner had asked them to contact me for child support payments. Now as a father I have no problem paying for my children but the situation I find myself in is the reason for this gripe. Sorry it's a bit long but hopefully you will understand why I am so angry about this.
On the 2nd April I found out my partner of 10 years had been having an affair with a guy from her work. I asked her if I had any chance of fixing our relationship, to which she replied she didn't think so. So for the next week I sat around at home in a deep depression listening to her talk with him on the phone, after another 4 days he stopped calling. She became upset and I told her to go find him and find out what was going on because if he didn't want to be with her would she give me another chance. She went and met him and he told her he wasn't sure if he loved her and thought he was having a nervous breakdown. She came home very distressed and I supported her through this for a week. I then asked her if we could try again and she said we could.
For the next two weeks I took over the finances, bought her things on a credit card and promised to get her out of the debt she was in. On the 2nd of May she was involved in a car crash and spent the day in hospital. On her return home I nursed her for a week. I then found out she had been in touch with him again and had been sending him pictures I had taken of her. I was devastated and said that if she contacted him any more I would leave. She told me she had called him and said not to text call or speak with her again then she said to me "I am sorry I don't want to hurt you any more and I want to be with you." I believed her and we carried on trying to rebuild our relationship agreeing that once a week we could have an evening when we would be intimate together.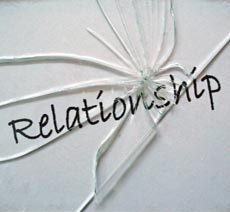 Then I found a message on Facebook from his best friend saying "nice pics, speaking of pictures there has been a misunderstanding call him". This was in respect of a picture she had seen of him with another blonde girl. I questioned her about this and said "If you are not in contact with him, why would there be a misunderstanding?". She said I was being paranoid and although I didn't really believe her, I carried on trying.
The 18th of July arrived, a day I will never forget for many reasons. I had set up the students breakfasts and sent a text to her asking her to put the milk on the table when she got in at 2.00am from her work. I received a call from her saying she couldn't come home at 2.00am as one of her work colleagues friends favourite uncle had died and she had to stay on. I became suspicious and wondered if she was lying and was actually with him. I called her work and it was engaged, I waited 10 minutes and called again to find it still engaged. My suspicions heightened. I called his mobile and it was engaged. Both phones were engaged for 40 minutes. Eventually I got through to her work. I hung up and called his phone again and told him to "Just leave her alone." I called her again and asked her "Why are you talking with him again?", to which she just said "I guess because I still love him." I asked if we were done and she just said "Yes."
Anger... I stupidly went to his house and took it out on his car...
Out of anger I stupidly went to his house and took it out on his car. I know that this was a silly thing to do and I was duly arrested and spent the night in a cell. when I came out the next day I was up for 3 charges, one for criminal damage and two other more serious charges. She had alleged that during the last night we were intimate together that I had said "If you don't sleep with me I won't pay the mortgage..." The later of course was all just her word and completely untrue, no evidence at all for any of it. I have never done anything wrong in my life, never been in a police station and no way would harm anyone. I paid the mortgage solely for 10 years and transferred all spare cash to a joint account and for the last 3 months to her account. I looked after our two children ages 3 and 9 five days a week, cramming all my 37 hours into Saturday, Sunday and Monday morning, while she went out to work to fund her spending.
When I was released on bail I couldn't return to my house as she was a witness for him and also due to the charges against me from her. She moved him into my house the night it all happened and he has been there ever since. On the 19th of July I received a summons to court for a non molestation and occupancy order for the house for her, and a non harassment order against him. After talking with my solicitor it seems these orders would be put into place no matter what and on the 20th of August the most serious charge was naturally dropped due to a complete lack of evidence.
She is refusing to let me to see the children
So why do I have a gripe with the CSA? Consider this. She is living at my home with her new boyfriend who earns £30,000 a year and she has earned the equivalent of £44,000 (£22,000 normal salary) a year for the last 5 years due to me looking after the children and her being able to work a lot of overtime. Also on top of this they have the students living there probably bringing in another £300 a month. I never wanted to leave her and if I could have still been there I would have been. She is refusing to let me to see the children and now wants me to pay her £280 a month through the CSA when I have a monthly wage of £1,350 and outgoings of £1,110 due to having to rent a place and pay off the £5,000 credit card bill I ran up trying to keep her! This is without the £280 child support and the £220 an hour for the solicitor I have to pay to get access to my children.
How can the CSA do this when it wasn't my choice to leave and I want to see my children desperately? I feel that the CSA needs to look at each case individually. They should look into whether it was the fathers chose to leave the kids and whether or not they want to see them because some mothers out there are spiteful and just deny access to the kids for no valid reason.
By: David
Leave a comment