18 comments Add a comment
I've just been woken up again by the double glazing company that fitted new windows throughout our house last year. I wouldn't mind if it was the first time they've called me but they've been pestering us quite a bit recently. Double glazing companies are good at this apparently.
For example about a month ago I had a phone call from one particularly pushy young man who was calling to inform us that as we had displayed their board outside our house and they had received quite a bit of new business in the area, we were entitled to receive a substantial discount against any other windows, doors or conservatories etc. that we wanted to have done.
Well first of all I explained that their company had already replaced all the windows so there was nothing that needed doing in that area and we didn't have room for, or indeed want a conservatory. I wasn't getting rid of him that easy though because he kept on and on about this huge discount available to us. I asked him if we could have a free back door as that was the only thing I could think of that they could really do for us at this point in time. I was being 'a bit cheeky', he said and although it was a big discount the product wouldn't be free.
"So how much is in this pot of money allocated to us then?" I asked him. By the way, that was how he put it when he first called me; it was a sum of money to be used buying new windows or doors and I thought it would be good to know exactly what we were supposedly getting. But no, of course the exact figures are never to hand are they? "How about if we send one of our salesmen round to measure up and give you a quote and we'll take it from there?"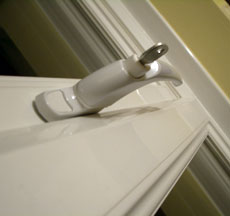 Well I wasn't having any more double glazing salesmen in the house. Not after the initial lot that came through here before we settled on the double glazing company we used to fit our windows. I ended the conversation there and then. It didn't stop him ringing back another three or four times though (including this morning) to try and get another salesman round!
Back to those double glazing salesmen though, because that's another part of this gripe. They're a right slimy bunch aren't they? Okay, well maybe not all of them (the first guy from the company we used was okay - a bit older and less pushy), but the vast majority of them just give me the creeps. I've got that mental image again, the suit, the car, the big bag with the product samples and the paperwork so they can manufacture a quote on the spot. Their company always has the best windows around and the competition are nothing but a bunch of cowboys. Their windows are guaranteed to last for ever, stay white and they even clean themselves. You're getting such a great deal here and you're not going to regret it (yeah right). What's more we can fit your windows before Christmas - but you've got to sign up now or we can't do you such an amazing deal. Tossers the lot of them! I'd already wasted two precious hours of my evening looking at the windows and listening to the latest salesman drone on about his company. We signed up, we now have new windows. The amazing deal wasn't quite so amazing (they sucked us in with that which is why we were visited in the first place!).
The surveyor pops round to measure up properly and progress the order. Absolutely no problem with any of them. I forgot to mention that we actually had all our windows done in stages so we had really good chance to see how all this works. One of the surveyors even had time to fuss the cat as it tried to destroy his briefcase.
The window fitters were an assorted bunch though. The first couple of guys were in and out in half a day, but they didn't quite clear up the mess they made and the young lad made a right stink in the bathroom and opted to neutralise the smell with a can of my deodorant. Okay, not a crime really but opening the window would have sufficed.
It turns out they did a shocking job though because the second couple of fitters had to go round and fix their workmanship. I did notice that the living room window looked like the crossbar was bowing down. I thought it was an optical illusion and I was just being a bit picky. Also, they hadn't sealed the windows properly, which kind of explains that whistling sound. When they fitted one of the back windows we spotted a flaw in the pane of glass and they managed to replace the unit there and then. This was great until we noticed later on that evening that it was actually the same unit, just turned around.
Somehow or other they managed to mix the double glazed units up and put the wrong one in again. It may have been an honest mistake but the result was it took the best part of a week before someone else could get out and put in another window. Luckily I work from home so was available.
So all in all, I don't have a very high opinion of double glazing companies or their people. Windows are one of life's necessities though so I guess we must endure them just as one must endure taxes (my next gripe I think!).
By: Fed up with double glazing companies
Leave a comment