12 comments Add a comment
Cheap self assembly flat pack furniture and when I say cheap, I mean poor quality materials and design, not how much the pack actually cost you to buy in the shop! They don't cost a fortune (unlike REAL furniture), but I wouldn't exactly say they are value for money either. These things are actually quite loathsome in my opinion. They are not only made from cheap materials such as chipboard and MDF, but they actually look cheap once they have finally been constructed.
That's another issue I have flat pack furniture, constructing the thing occasionally be complete pain. Self assembly packs are supposedly designed so that they can be put together easily and with minimal tools, yet the instructions are frequently incomprehensible and often consist of poorly translated English.
It is true to some extent I suppose that you get what you pay for. Furniture wasn't always like this. In the good old days it was made from solid wood and built by a craftsman; it was also built to last which isn't something you can really say about today's flat packs. The difference is actually quite striking.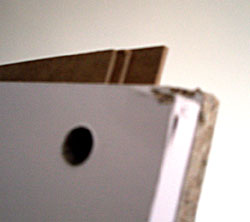 For example, we've moved recently and had to acquire some furniture very quickly for our new home. Certain items such as computer desks and a wardrobe were flat packs, whilst we received (gratefully) a large oak dining table and chairs, and a large mahogany display cabinet from the Freecycle network.
One thing I am certain of is that is the dining table and cabinet will still be around long after the desk and wardrobe have disintegrated and been resigned to the dump. Alas, we can't afford to buy all "proper" furniture, so I guess flat pack furniture has its uses and will do for now. But is it a false economy?
Leave a comment