26 comments Add a comment
We had some new double glazing fitted last year. First of all we had the front windows upstairs and down fitted, then the following year we had the remaining windows out the back done. This was quite a lot of work and it cost quite a few thousand pounds.
We're happy enough with the work that Amber Windows did (eventually), although there were a few issues. The front window had a bit of a defect and hadn't been fitted properly, likewise the bedroom one needed some sealing replacing. Then there was the dining room window that needed replacing due to a manufacturing problem. There were scratches on it. When you buy double glazing you don't expect it to come with blemishes.
Anyway, as I said the workmanship from double glazing fitters wasn't in question, and neither was the product itself once these problems were resolved. The issue though, is nuisance phone calls I've had to put up with. We've been receiving these calls from Amber Windows since just after they replaced all our double glazing.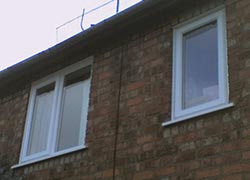 It's almost as if there's a note on our file that says 'Call this guy up once a week' because so far I've had two calls this month already!&nbsp Every time someone calls I go through the same speech. "No we're not interested in getting any more work done", and "yes, we're happy with the windows that you fitted last time". It's getting beyond the joke now though. I'm fed up with it.
The first time they rang us up last year I had to endure the whole "As you've spent so much with us already, you're entitled to a significant discount... blah blah blah". Anyway, to cut a long story short, I went round the houses with this guy for a few days and as it turns out there's not a significant enough discount so I asked them not to call us back and thought that would be the end of it. Apparently not though, because we've received more than a dozen calls since.
This is getting tiresome and I'm fed up repeating myself and a 'note being made not to call us'. They're just not listening, so if someone from the company reads this - please, don't call me any more!
By: No thank you!
Leave a comment