96 comments Add a comment
In addition to NOT being psychic or clairvoyant (we don't know what's inside the parcel YOU'VE ordered!), we're also NOT phone installation experts, Corgi registered technicians or flat-pack furniture assemblers. SO DON'T BOTHER ASKING!
We are DELIVERY DRIVERS, which means we drive around and deliver things! By the way, we don't drive Reliant Robin's with just YOUR parcel on board! Ford Transit vans can't always fit through your tiny narrow gateways, not even when in your infinite wisdom you decide to decrease the space between the posts!
As for catalogues - if you don't want them anymore then ring the company up and get them to remove your name from their mailing lists. It's very hard to raise a smile when you've just driven 3 or 4 miles along narrow, twisty lanes dodging inane tourists, horse riders and typical bumpkins (farmers who think they also own the roads which connect their land!), finally reaching your hovel just to be told that you no longer want anything to do with catalogue companies! You then decide to hurl a load of abuse at us because it's something else that you've got to recycle...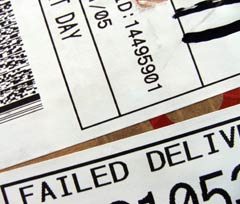 Those large cumbersome parcels which look awkward to carry ARE in fact heavy! If you can just tear yourself away from watching Jeremy Kyle for a few seconds, yes we WOULD appreciate some assistance over here. Open a gate or door perhaps. Better still, lock your bloody dogs away instead of picking them up whilst trying to sign for your items (Only applies to those of you that can actually write your name and sadly so many of you are unable to perform even that simple task!). Strangely enough,we don't all see the funny side of getting our ankles and fingers bitten by cuddly little pooches!
One last point; If you would like us to leave your parcels in your shed, greenhouse, garage, stable, swimming pool or other extravagant outbuilding that you've wasted your 'hard earned' money on, then have the the courtesy to leave the door to that building open. Unfortunately we're not allowed to kick your doors in or smash your windows. Yes it is a shame isn't it?
By: Delbert D.Rivers
Leave a comment