10 comments Add a comment
Hi, my name is Andrew. I have had a few strokes of bad luck one after another. First of all, My work relocated me and did not properly fund the relocation costs. They then went into administration. This on it's own could be considered just normal bad luck but it didn't stop there.
After taking my car in for a service which cost £700 and included an oil change, the engine seized a week later. A separate garage showed that melted plastic in the oil system had blocked the oil pump causing the engine to over heat and that the plastic had not come from the engine. My insurance company investigated it and declared that the plastic could have been put in the engine by anyone; they would investigate further but at a hefty fee and may come to the same conclusion. I was left having to buy a reconditioned engine at £2,500, for a car that I still owed £3,000 on.
This was just the start of the problems and it is true that people are particularly keen to kick you when you are down! I am a young man with no family to help me if something takes a turn for the worst. Like many people I am working hard just to get by so after this, what is fair and what is not I dont even know any more.
We HAVE several parties interested in buying your Audi ...
I am fighting £300 pounds in bank charges every month, which then leaves me £300 short for the next month. The bank charges are up in court at the moment but in the meantime I have to simply drown in debt! I also have contracts with the gym, broadband and various service providers that I can't cancel. Why do they have to make that so difficult?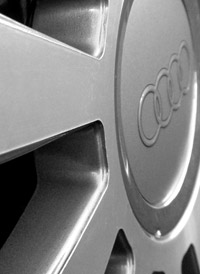 I have recently put an advert on Auto Trader to sell my car because I just cant keep it. I have not had one call from a potential buyer but almost 30 calls from other companies claiming to have interested parties. They are pretty good salesmen too and will tell you exactly what you need to hear. Ashamed to say, I have subscribed to three of them and have still, after 2 months, not had one phone call from a REAL buyer.
The worst of them, and the one that inspired me to write this incidentally was a phone call from "Vehicle World Services" by a man called Alex (so tempted to write his full name). He gave me the usual lines, "We HAVE several parties interested in buying your Audi." He was asking for £130 and I knew that I may have just that much (maybe a couple of pounds short) in my account. I told him that if I subscribe, I will be giving him my food money for the rest of month!! With the month still having 15 days in it, Alex promised that either the same day or the next someone will come around to see my car. They would offer me cash as he would have given the buyer finance.
My car is in great condition and going for a great price, so all I needed was someone to look at it and they'd snap it up. I was going to pay bank charges anyway and as this guy was confident about taking the last of my money, I thought to myself this can't possibly be a scam.
What is a criminal exactly? Is it someone who steels a loaf of bread and possibly uses a gun to do it, or is some telephone sales man that uses his words and lies? The thing is, Alex probably prides himself on his sales skills. Well Alex I've got news for you, you are worse than the man steeling with a gun and you are not alone. There are many people out there willing to trick someone into handing over their money, or corporations (run by individuals) that will squeeze a bit extra out of people who can't afford it.
Sure I am one of the minorities that actually feels the punch and notices the degree of legal theft, but if you look at the sum of all this behaviour, it is the reason that people have no trust, which in turn is probably the root cause of all the problems in society.
I dont believe that it is human nature to be a "taking man", but that a "taking man" suffers from a degree of ignorance.
By: Andrew
Leave a comment