10 comments Add a comment
There are a lot of very dodgy car mechanics, garages and car dealerships around thes days. If you find a reliable mechanic to service your car and a garage you can trust, take my advice and stick with them, because they are few and far between these days. We've had so much hassle, where do we begin? These days of computers in cars have brought us sheer misery when dealing with mechanics and car dealerships.
First of all we have to deal with the anonymous call centre 'soothers'. They know nothing about the vehicles themselves, they are in fact experts who are 'trained to listen, but say nothing'. As for the mechanics and dealerships that use 'security' to rationalise refusing to allow other mechanics to work on your vehicle, particularly if a computerised component is requiring repair. It's enough to quite literally drive you crazy!
Our local Ballina Mitsubishi dealer took 3 days to work out if could fix a supposed ECU problem – in the end they could not. We then had to tow the car to another Lismore dealer who after 3 weeks had NOT returned one phone call. Nope the notion of 'service' in Service Dept has a unique new meaning for this Mitsubishi dealer.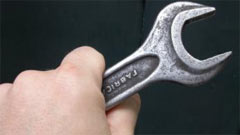 Just to add fuel to the fire, they did get around to ordering a part that we later found out we may well not have needed anyway; a simple module that cost over $1000 AUS! Hey we could get a computer for that money and I doubt the whole process would have been this complicated!
We still do not know when the car will be fixed, what exactly is wrong, what they have done and how much it will cost!
That 'security' thing must refer to making sure THEY get maximum profit from servicing and giving us the run around. By: Mad as Hell Mark
Leave a comment