13 comments Add a comment
I am writing because I think that the laws regarding children in divorce in our country are barbaric and antiquated at best. I do not believe they put the interests of the child first. Children will continue to be used as pawns and only the implementation of default 50/50 joint custody and residency orders, after separation and/or divorce will prevent this.
So, where do I start? Let me first tell you of my decision. As callous and as uncaring as it initially sounds I would like to stress that I love, beyond all reason, my little one. With that in mind, I would now like to shock you. I have decided that the best course of action for my daughter is for me to abandon her.
Why? I'll explain.
After much soul searching and research, I have come to an understanding that after a divorce or separation it is in the best interests of a child that both parents continue to be involved in his/her life, in a co-parenting, joint custody, joint residency arrangement; where both parents understand - that due to them both being adults and deciding to procreate - they need to put their children first. This will involve them having to cooperate with one another, put the emotional, physical and financial needs of their children first, and most importantly, never use their children as a means to an end.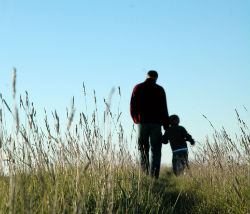 If this is unachievable, that is; if one or both parents continue to involve their children in their conflict, then the next best step is for one of the parents - in the current political climate this will normally be the father - to disappear from their child's life. In effect, abandon the child.
I say this because the affect of divorce on children, without parents involving them in conflict, is hard enough. But parents who involve their children, or at the very least allow them to be exposed to their unreasonable behaviour, do immeasurable damage to them. It is my opinion that a child witnessing unreasonable behaviour between their parents will undoubtedly, and most likely, cause them to become traumatised. Furthermore, it is my opinion that this trauma is basically a form of abuse, and as such I believe that this will have a much worse effect on a child's mental and emotional development than that same child being abandoned by one parent.
I understand that my opinion will cause a great deal of revulsion in many a reader. But I would like to stress that this is not my fault. I have decided to take this course of action through a genuine desire to limit the amount of pain and suffering my daughter will undoubtedly experience in her life. I am unable to explain this to her, as she is only 3 years old.
By: It's the least worst option
Leave a comment