26 comments Add a comment
I met up with some friends from work in Coventry to do a ghost tour and parked my car in the NCP car park which is located conveniently near the town centre. At the end of the tour I returned to the car park and went to pay at the ticket machine. I put the ticket in and as I had been away for two hours and twenty minutes the amount requested was 4 which was all very well.
Luckily I had four pound coins in my pocket and with the exception of some large notes that was all I had so I proceeded to feed the coins into the ticket machine. The first pound went in fine, then the second and third, but when it came to the fourth one it spat the coin back out at me.
Fair enough I thought, and put the money back in more carefully this time. Same result, the coin went straight through the machine again. I checked all my pockets to see if I had any other change but unfortunately I didn't have anything else except for the notes.
The screen still said I had to put in another pound...
I decided to try again because at the end of the day I've come across parking ticket machines before that are a bit twitchy and they usually get there in the end. I put the money in again and this time it didn't get spat out, but it didn't register it either. The screen still said I had to put in another pound.
As you can imagine I wasn't too impressed with this so I pressed the buzzer to summon the parking attendant. I explained the situation and he opened up the machine. The machine registers every transaction and yet had only recorded the fact that I had put in three, not four pound coins according to the parking attendant. He checked the coin reservoir, gave me the three coins sat in it and proceeded to close the machine. I asked him to hold on a minute because I had put in four coins and not three, so where was the other one?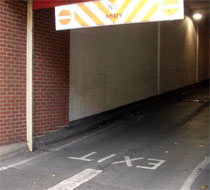 He just looked at me as if I was stupid. I reiterated that I had put four coins in and not three to which he simply pointed at the screen and shrugged. Well he might have just come out and said that he thought I was lying because as far as he was concerned the machine was right and anything I said didn't make the blindest bit of difference. When I asked him what he was going to do about it he said "I can't give you a pound because it would have to be out of my pocket." He then told me I should come back later on or better still in the morning when the cash has been counted to see if they have an extra pound.
I didn't think that was a very helpful suggestion because I had my young daughter with me, it was late and we just wanted to get home. Returning the next day to see if they had my money would mean wasting the equivalent on petrol just to get there. Besides, couldn't he have just lifted the barrier and let us out? No of course not, how silly of me because we were obviously trying it on! I was now going to have to pay £5 for my car parking instead of 4 and I didn't have any more change. As it happens the husband of one of my friends had come back as all this was going on and had a spare pound to help me out of my predicament.
I know its only a pound but its the way the guy treated me to be honest that really irritated me. He just didn't care, the machine said only three coins went in and that was that. It kind of reminded me of one of those "computer says no..." scenarios! Come to think of it, if you were diddled out of a pound every time you paid for something it would soon mount up, so loosing a pound to some faceless company with faulty machines and indifferent employees really left me feeling quite bitter.
Leave a comment