57 comments Add a comment
Why do hospitals and such places charge to park cars? Sometimes it is just not helpful at all. For example if someone is ill and needs treatment at the hospital or accident and emergency etc., if at all possible I will not call an ambulance unless it is a life threatening condition. There are far more deserving cases so if you can get to a hospital yourself then you should. The issue is hospital parking and the fact that they charge.
I recently had someone staying with me who was not feeling at all well, so I telephoned the out of hours doctor and was told to take the patient to the out of hours doctors surgery. I helped the patient into the car and drove to the place I had been told to take her. Upon arrival I drove to the entrance and a large barrier automatically raised itself as I approached. A small yellow sign on the left (too small actually), caught my eye as I passed through. Unfortunately I saw it too late and had no idea what it said.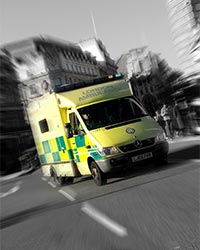 However, once I got inside the grounds I discovered it was going to cost me to get out of the car park again! As it happens the doctor that my friend saw referred her to the local hospital. When I got there and drove into the car park, guess what?
That's right, I had to pay to park yet again! I was fortunate enough to have plenty of spare pound coins in my pocket that day, although I could think of better ways to spend them than in a hospital car park!
Do I now have to ask the question "can I afford to take you to hospital?" next time there's an accident or someone needs to see a doctor? Of course not, but I really do resent having to pay for hospital parking.
I think that it is fair enough for visitors to have to pay, but surely not the patients and the people who take them to hospital. After all, if you take someone there by car then you've saved the tax payer the cost of an ambulance. That ambulance is the available for someone who really needs it.
By: Mr Angry
Leave a comment