10 comments Add a comment
Is it my imagination or are car parking spaces getting smaller? I always try to park away from other cars if possible, but usually find, on getting back to my car, someone has parked their 4x4 right next to my 3 door Micra, making it a squeeze to get into my car.
Damage... a scrape from front to back...
Yesterday I had parked in two different car parks, one at a supermarket and the other was a local council car park. When I got back to my car at the council car park I found damage to my nearside front wing i.e. a scrape from front to back. A woman in a big black 4x4 had been loading her child etc. into her car as I parked next to her. I heard a bang as she opened her rear passenger door against the car she was parked next to and found the damage to mine when I returned 15 minutes later, so it would appear her car was too big for the size of the space.
When I got home I showed my husband the damage, and then we found a scrape on the off-side rear wing which had not been there when I left home. This must have happened in the supermarket car park as the car on my near side in the other car park had not moved. I bought my car new six and a half years ago and apart from a small three prong dent on the bonnet caused by a stone thrown up from a passing lorry, it is or rather WAS as good as new until yesterday!!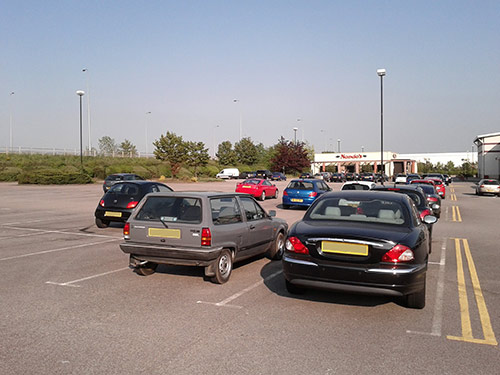 Car parking spaces should be bigger NOT smaller
Today, once again, I parked well away from other cars, but as I was loading my shopping into my car, a woman arrived and parked her car right next to mine and I noticed she came in at an angle and didn't straighten up, which left her front nearside wing about 6 inches away from my car. If a car ended up parked on her off side, she could very easily do the same damage to that as was done to mine if she didn't straighten her car first.
Should the spaces be bigger? Yes! Definitely! Car parking spaces should be bigger NOT smaller. It's all very well trying to squeeze as many cars into a parking lot as possible by making the spaces compact, but the end result is whole load of bumps and scrapes.
By: Ben's Nonna
Leave a comment