30 comments Add a comment
Although parking can be a problem for many drivers in town and cities, there are many Park and Ride facilities around the country. They are very useful except for one thing from my experience, Park and Ride bus drivers are the most spiteful in the country compared with other bus drivers.
On one occasion whilst doing the Christmas shopping in Preston I was with my wife and I had both our tickets. We were getting slightly overloaded and so I thought I would nip to the car with it and come back empty handed to do some more shopping.
I got on the bus and tore off one ticket to which the driver asks me for the other ticket. Thinking he was curious of something I did but he wouldnt return the ticket to me. I asked for it back but he argued that if I was going back to the car and the other person wasnt with me the other person wouldnt need it and so he was confiscating it.
When I pointed out that I was going back to the car with the shopping, and then back into town to meet my wife and that we would be travelling together back later on, he still refused to return the unused ticket!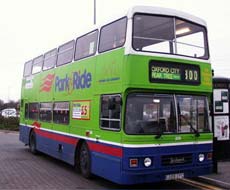 I put the shopping in the boot and went back to town and explained to my wife what had happened. On the return journey I didnt have a ticket for my wife and so I told the driver of that bus what had happened the first time. He was reluctant to accept the story and let her travel so we didnt bother travelling back to the car in their stinking buses and I have never used Prestons buses since! I park down the side streets which I am entitled to do and wont park in the car parks.
On another occasion when I was in Oxford, I was walking towards a bus stop where an Oxford Bus for Water Eaton Park and Ride was letting passengers on.
As I got to the bus the driver closed the doors and whilst I was waiting for the door to be opened the driver read his newspaper and after about five minutes he put his paper down and started up.
There were about another five passengers waiting behind me but he drove off without letting any of us waiting at the bus stop get on and he saw me as I made eye-to-eye contact before he drove off so it wasnt that he didnt see me. If he didnt observe me he shouldnt be driving a public service vehicle.
By: Mousey
Leave a comment